The Tsarnaev brothers pulled off their terrorist attack with great skill but made a fatal mistake in letting their faces and bodies be seen at a heavily photographed international sporting event. This meant that multiple images of them were available for a massive law enforcement squad to comb over and, after three days, identify them by name and appearance.
This rapid identification was not unprecedented – the London police had done likewise in the July 2005 suicide bombings but because none of the four perpetrators survived that attack, that was more a theoretical achievement than a practical one. To the best of my knowledge, the Tsarnaevs were the first terrorists to be tracked down via still and video pictures.
In retrospect, the brothers should not have exposed their appearances. But how to avoid doing so? Hoodies leave the face exposed. Ski masks arouse suspicion in temperate weather, as do Halloween or Carnival masks all but a couple of nights per year, and stocking masks at any time.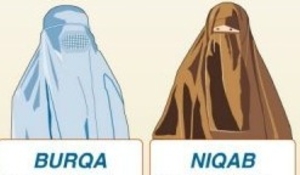 Obviously, they should have put on Islamic full body covers that show only the eyes (niqabs) or nothing at all (burqas). Wearing these garments haa multiple and unique virtues, totally hiding the wearers' identity; being legitimate attire in any weather and in any place; permitting the discreet transport of weapons; giving off the helpfully false impression of being worn by women, which both reduces suspicion and misleads witnesses; usefully creating a social barrier; maximizing personal prerogatives; and being ideologically appropriate, sending an unmistakable Islamist signal.
The niqab exposes the eyes, which is a drawback that sunglasses can compensate for; and it has the great virtue of allowing the terrorist to see around him better than the burqa. Both carry the disadvantage, however, of making the wearers more conspicuous when setting off devices or fleeing the scene.
One must expect future non-suicide bombers to turn to niqabs or burqas. (As many terrorists and criminals repeatedly have done so: see my 16,000-word blog on this topic.)
But why wait for them to engage in more murders? Why close the barn door only after the horse has run away? Far smarter would be to ban whole-body covers in public places now, before tragedy occurs. (April 21, 2013)
Related Topics: Counter-terrorism, Sex and gender relations
Related Articles:
receive the latest by email: subscribe to daniel pipes' free mailing list
This text may be reposted or forwarded so long as it is presented as an integral whole with complete and accurate information provided about its author, date, place of publication, and original URL.