A Pakistani Islamist group, I wrote in 1995, had recently "deemed Michael Jackson and Madonna 'cultural terrorists' and called for the two Americans to be brought to trial in Pakistan."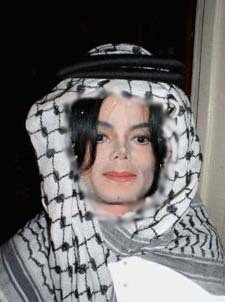 One Photoshopped vision of Michael Jackson as a Muslim.
That was then. Now, in the aftermath of Jackson's early death at age 50, Islamists are humming a different tune. IslamOnLine.net, a website overseen by the Sunni scholar Yusuf al-Qaradawi, ran a story today titled "
Muslims Pay Tribute to Jackson
" brimming over with accolades and using words such as "love," "thoughts and prayers," and "icon."
Comments: (1) This change reflects the rumors since in December 2003, a month after his arrest on child-molestation charges, that Jackson had converted to Islam, rumors with more than a pinch of substance to them.
(2) This division of opinion replicates the reaction to Barack Obama, where the soft Islamists see him as a boon and the hard ones see him as a threat. (June 27, 2009)
Related Topics: African-American Muslims, Converts to Islam receive the latest by email: subscribe to daniel pipes' free mailing list This text may be reposted or forwarded so long as it is presented as an integral whole with complete and accurate information provided about its author, date, place of publication, and original URL.