Here's an interesting sentence to ponder, from today's Ha'aretz: "The Arab lobby at the United Nations, backed by Russia, foiled a Palestinian Authority initiative to include a condemnation of Hamas' seizure of the Gaza Strip in a UN resolution against Israel."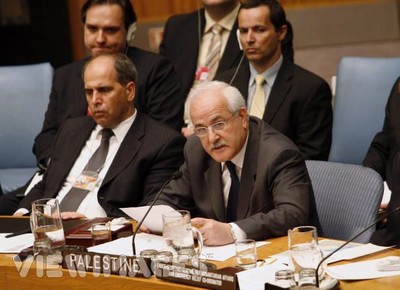 Riad Mansour, UN observer from "Palestine."
Riad Mansour, the PA's observer, wanted to include a clause in a draft resolution condemning Israel at a Decolonization Committee meeting. It would have expressed "concern about the takeover by illegal militias of Palestinian Authority institutions in June 2007" and called for its reversal,
But, under Arab state pressure, this was toned down to "concern about an illegal takeover." Mansour himself was subjected to a barrage of insults, led by the representatives of Egypt, Syria and Libya, who claimed that his initiative would be interpreted as a UN condemnation of Hamas, thereby easing Israel's cutting of electricity and fuel supplies to Gaza.
Comment: It is curious to see the PLO becoming in some sense a client of Israel. A rebellious and hateful one, but still, for most Arabs, a Zionist client. (November 18, 2007)
Related Topics: Arab-Israel conflict & diplomacy
Related Articles:
receive the latest by email: subscribe to daniel pipes' free mailing list
This text may be reposted or forwarded so long as it is presented as an integral whole with complete and accurate information provided about its author, date, place of publication, and original URL.