My 1998 article, "You Need Beethoven to Modernize," proposed that proficiency at Western classical music can, surprisingly, serve as an index for how well non-Westerners modernize. This weblog follows the theme by looking at the continuing difficulties between music and Muslims.
Before starting, though, two backward nods: For the fate and symbolism of classical music in post-Saddam Iraq, see "'Iraqi Symphony Performs for Bush'" from late 2003 and the attempt by Mahmoud Ahmadinejad, president of Iran, to ban Western music from Iran in late 2005..
With the Hamas takeover in Gaza, music, even indigenous, is nearly banned, according to a musician named Salaheddin:
I lead a group of 26 musicians - we play traditional Palestinian music. But for the last two months we haven't been able to work. This group, Hamas, believe they are the leaders of Islam. The violin, piano, flute, all these instruments are banned. Only the drum is allowed. They say any other instrument is not mentioned in the Koran. ... Hamas have already beaten one of my singers for singing for Fatah. He was attacked at the wedding where he went to perform. We had to send him to Israel for hospital treatment. We have to keep our traditional music because it is Palestinian. People without traditions are not civilised, they are nothing.
(August 3, 2007)
May 5, 2008 update: If music is threatened in Iran and Gaza, it has a new opening in Saudi Arabia, reports Donna Abu-Nasr of the Associated Press:
A German-based quartet staged Saudi Arabia's first-ever performance of European classical music in a public venue before a mixed-gender audience. The concert, held at a government-run cultural center, broke many taboos in a country where public music is banned and the sexes are segregated even in lines at fast-food outlets.

The Friday night performance could be yet another indication that this strict Muslim kingdom is looking to open up to the rest of the world. A few weeks ago, King Abdullah made an unprecedented call for interfaith dialogue with Christians and Jews — the first such proposal from a nation that forbids non-Muslim religious services and symbols. "The concert is a sign that things are changing rapidly here," said German Ambassador Juergen Krieghoff, whose embassy sponsored the concert as part of the first-ever German Cultural Weeks in Saudi Arabia. ...

Friday's concert of works by Mozart, Brahms and Paul Juon was the first classical performance held in public in Saudi Arabia, said German press attache Georg Klussmann. It was advertised on the embassy's Web site with free tickets that could be downloaded and printed.

The excitement in the 500-seat hall was palpable as the largely expatriate audience walked in. "We have not done a concert like this before," German diplomat Tobias Krause told the audience at the start of a performance by the Artis Piano Quartet. Those gathered applauded enthusiastically after each piece and were treated to an encore.

Sebastian Bischoff, the German cultural attaché, said the mission had received permission for the event from the Ministry of Information and Culture, which runs the King Fahd Cultural Center, where the concert took place.

Japanese pianist Hiroko Atsumi, the quartet's only woman, said there was some debate before the concert about whether she should perform in an abaya, the enveloping black cloak all women must wear in public. She settled on a long green top and black trousers. ...

For the expatriates, the evening was an opportunity to have a normal evening out in Riyadh, a city with no movie theaters and where women are not allowed in outdoor cafes. One foreign couple held hands, while another husband put his arm around his wife's shoulders — rare public displays of affection in the kingdom. The mutawwa, the dreaded religious police tasked with enforcing public morality, were nowhere to be seen for a change.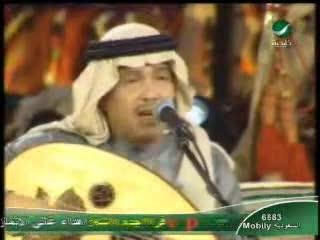 The Saudi oud player, Mohammed Abdo.

Dec. 2, 2008 update: The erudite David P. Goldman, writing as "Spengler," looks at China in a way similar to my assessment of Japan and the Muslim world in "China's six-to-one advantage over the US."
July 20, 2009 update: The tensions in Saudi Arabia over music and movies is reaching a boiling point, as evidenced by the sudden, last minute cancellation of the Jeddah film festival. According to Agence France-Presse, "Most Saudis want music and movies like everyone else," but the country's top religious leaders are standing in the way. The article notes that "Saudi Arabia's most famous entertainer Mohammed Abdo, for instance, plays the oud, sings, and recites classical poetry in sold-out concerts around the Arab world, but he cannot give a normal public performance in Saudi Arabia."
But the ulema do not win every round:
In May a French embassy-sponsored concert by operatic soprano Isabelle Poulenard, performing with a female accompanist to a women-only audience in Riyadh, was forbidden just two days before the date after gaining full permissions. The concert finally went ahead following an apparent high-level skirmish between religious and other officials, said a person associated with the event.
The former Cat Stevens, now Yusuf Islam.

July 26, 2009 update: An interviewer says this about the former rock musician Cat Stevens, now the Islamist called Yusuf Islam:
With the rigour of the zealous convert, he stopped playing music. The first guitar to re-enter his life was brought into his home in Dubai (where he also runs Jamal Records) by his son Muhammad. "He awoke within me my deep conviction that there was nothing wrong with this. Music has never been forbidden in the Muslim world."
Aug. 26, 2009 update: Some Saudis are trying to develop artistic festivals that include musical performances but the Mutaween, the religious police, are having none of it.
Jeddah's summer film festival was cancelled this year despite the support of local governor Prince Khaled al-Faisal. King Abdullah, who ascended the throne in 2005, is seen as backing the reformers but he must balance the opposing forces. "Unfortunately such actions carried on by religious police do not adhere to the official political will and they sabotage the government efforts to improve and maintain the internal tourism industry," said Mahmoud Sabbagh, a newspaper columnist. This month music concerts were also banned from the Abha tourism festival, in the mountainous southwest of the kingdom.
Feb. 4, 2010 update: In an unusually critical piece about the Islamic Republic of Iran, "The Sour Notes of Iran's Art Diplomacy," Michael Kimmelman looks at Tehran's sponsoring the Tehran Symphony Orchestra on a tour across Europe. Reporting from Geneva, he writes:
It played the so-called Peace and Friendship Symphony, by Majid Entezami, a four-movement jeremiad of martial bombast and almost unfathomable incompetence and silliness, originally performed, according to Tehran Times, last February in Iran to celebrate the 30th anniversary of the revolution. It has been retitled for this occasion.
Kimmelman attended a concert in Geneva, where tickets were
distributed free by Iran's consulate to invited guests, no doubt to keep protesters and adverse publicity at a minimum. Geneva's tourist office handed out a few tickets on its own, as it turned out, padding the enormous Victoria Hall, which was mostly empty anyway.

I counted maybe 300 people in an auditorium built for well over a thousand. More than a few of those who came beat a hasty retreat after the music started, including a young Swiss composer and his German date, who, when I asked what they were doing there, said they had landed tickets at the last minute from the tourist office after pleading that they hadn't anything better to do with themselves that night. They knew nothing about the music or musicians. (Iranian organizers didn't distribute programs.) Less than a half-hour into the symphony the couple sheepishly snuck out. Who could blame them?
Then he goes after the music itself, reaching heights of eloquence:
Scored for orchestra, chorus and male solo singer, with an electric guitar, amplified piano and battalion of harpists thrown in to increase the racket, the symphony approximates brief melodies in between lengthy drum assaults by burgling hints of "Dr. Zhivago" and "Lord of the Rings" along with Vivaldi and "Fiddler on the Roof." Otherwise, for the better part of 75 minutes, a whole team of percussionists gravely beat the bejesus out of a variety of very loud drums, to unintentionally (and increasingly) comic effect. Occasionally the male soloist would slowly rise from his chair and sing a brief Persian pop riff.

An Iranian woman, a businesswoman based in Geneva who, like many other Iranians I spoke with at the concert, asked to remain anonymous for fear of reprisals by the regime, afterward compared the effect of the soloist to the sun trying to peek through the clouds during an endless thunderstorm. …
And a final word on the bedraggled Tehran Symphony Orchestra, which Kimmelman writes was once "an exemplar of Iranian cultural excellence":
The other night it was impossible not to look with pity on its players, who, having devoted their careers to mastering the classical idioms of European music, were reduced to performing this. Another Iranian audience member, a businessman living in Geneva who also asked to remain anonymous, told me after the concert that he kept "seeing Ahmadinejad's face in the music." It made him furious. "But my heart goes out to the musicians," he said. "They're victims like the rest of us."
Comment: Ahmadinejad came to power and banned Western-style music (see the Dec. 19, 2005 update, above); what happened that his regime is now proffering its own version of Western music, however awful it might be? What happened that the TSO has become not just acceptable but an export item?
Apr. 14, 2010 update: Iranian Islamists may now favor classical music, but their counterparts in the Somali Islamist group Hizbul Islam have just enforced a ban on all music, reports Agence France-Presse, and the fourteen independent radio stations operating in Mogadishu have no choice but to obey.
Mogadishu-based radio stations stopped playing music Tuesday in compliance with an ultimatum issued by hardline Islamists 10 days ago, officials and journalists said. "Today we see an official crackdown on the independent media... The local radio stations stopped playing any kind of music or songs after the deadline given by the Islamists came to an end," said Mohamed Ibrahim, an official of the National Union of Somali Journalists. … All radio stations in both government and Islamist controlled areas of Mogadishu were affected by the ban imposed by the Hezb al-Islam militants, Ibrahim said. Journalists and radio executives said they had complied with the ban for fear of reprisal. The Hezb al-Islam and the Al Qaeda-linked Shebab groups control much of war-wracked Mogadishu.
AFP also quotes reactions from unhappy radio station staff:
Mohamed Haji Bare, director general of Danan Radio: "We abide by their rules by abstaining from broadcasting music and songs and instead we are using traditional poems from today on."

Osman Gure, director of Radio Shabelle: "No one dares disobey the orders otherwise you put your life in danger."

Abdiaziz Mohamed Dirie, an editor at Simba radio: "This morning I broadcast my program without the music sound bites. Everything is falling apart in this country and if we ignore what they [the Islamists] say, we ignore our safety."
Apr. 16, 2010 update: The Shabab, the most powerful Islamist group in Somalia, have gone a step further and banned school bells in Jowhar, some 55 miles north of the capital Mogadishu.
School principals in the town … had been summoned to a meeting and informed that the bells could no longer be used because they sounded like church bells, according to one principal. "There was no bell rung in our school today," said Hamdi, a student at the Kulmis Primary and Secondary School, who asked that her full name not be used out of fear for her safety. "Some teachers were hitting the doors as the period finished. It is really confusing."
The news report also updates the predicament of the Mogadishu radio stations that stopped playing music: "The ultimatum left broadcasters scrambling to find creative ways around the ban, leading them to play recordings of horses galloping, roosters crowing, engines roaring or guns being fired — a common sound in the capital — to signal the start of various broadcasts."
Apr. 20, 2010 update: Music on the radio has become a hot potato in Somali politics, Mohammed Ibrahim of the The New York Times explains today in "Somalia: Off Again, on Again Radio":
Two radio stations in Somalia were shut down by the transitional government on Tuesday because they had stopped broadcasting music after threats from Islamist insurgents, but the stations were allowed back on the air hours later. The quick turnaround appeared to expose a difference of opinion in the government, which had earlier warned of shutdowns. Security agents had ordered the stations closed Tuesday, but the Information Ministry, citing the freedom of the press, countermanded the orders. Islamic insurgents had demanded the stations stop playing music because they deemed it un-Islamic.
June 1, 2010 update: As ever, music is a political football in Iran, reports Ali Sheikholeslami for Bloomberg. Now the issue is music instruction at the country's 16,000 private schools, where 1.1 million students attend classes:
Iran has barred private schools from teaching music, saying it clashes with the establishment's Islamic values, following a push to enforce moral standards that may lead to a national dress code for university students. "The use of musical instruments is against the principles of our value system," Ali Bagherzadeh, head of the private- schools office in the Education Ministry. …

Teaching music in state schools has always been prohibited, Bagherzadeh said. A school that teaches music may be permanently closed and its director barred from opening another school, he said. The ban applies to the use of all instruments, including those played in traditional Iranian music, Bagherzadeh said.
June 28, 2010 update: This is off topic – no Muslims involved – but it adds a useful perspective on Western classical music. From a review of The Ninth: Beethoven and the World of 1824 by Harvey Sachs (Random House) in The Weekly Standard by Lawrence Klepp:
Toward the end of the Chinese Cultural Revolution, in the mid-1970s, the routine attacks on revisionists and running dogs of imperialism were briefly interrupted by a strident anti-Beethoven campaign. A friend of mine who was a schoolgirl in Shanghai at the time remembers that the reeducation sessions demanded particularly resolute striving against the Fifth Symphony, because the dramatic opening chords had been interpreted as fate knocking on the door, and the bourgeois concept of fate was obsolete. The revolutionary will of the people, reinforced by the collective recital of Chairman Mao's thoughts, overcame all inevitability and could accomplish anything.
But, Klepp continues, "It couldn't accomplish making Beethoven sound bad."
July 21, 2010 update: Again off topic but what a contrast: David P. Goldman reviews the Israeli music scene in "Pioneers: A mix of passion and tradition makes Israel a classical-musical superpower." Israelis would seem to have a classical musical role comparable to their high-tech role:
Israeli musicians, clockwise from the far left: Zvi Plesser, Hillel Zori, The Jerusalem String Quartet, Michal Tal, Nitai Zori, Nagai Shaham

Improbably, Israel has become a pocket superpower in the arts, most visibly in classical music. … Israel's contribution to classical music, that most distinctly Western of art forms, has never been more visible. And Israelis take to classical music—the art form that most clearly creates a sense of the future—like no other people on earth, to the point that music has become part of Israel's character, an embodiment of the national genius for balancing hope and fear.

The distinctly Israeli take on the European classical tradition has become the country's most notable cultural export, and it has been nurtured by a reverse flow of Israeli performers who are coming back from Europe and the United States to teach at home. In a country where daily life has an intensity that arises from risk, classical music offers an irreplaceable spiritual outlet. And young Israelis bring to it a unique blend of discipline and fervor.
Goldman concludes his moving tribute with an explanation for the outstanding Israeli role in classical music:
The sense of a future in Western classical music evokes the basic emotions with which human beings regard the future, namely hope and fear. When Israeli musicians speak of performing with a sense of risk, they mean the capacity to sustain hope in the presence of fear. It takes a certain kind of personality to do this on the concert stage, with all the attendant artistic and technical demands. Israel, whose existential premise is the triumph of hope over fear, incubates a disproportionately large number of musicians with this sort of personality.

Western conservatories, by contrast, tend to penalize risk-taking. Their graduates are taught to launch careers by winning competitions, and the default strategy for taking a competition prize is to make the fewest mistakes. The conservatory-and-competition circuit tends to manufacture risk-averse savants who play with the spiritual equivalent of surgical gloves.
Comment: The Israeli achievement strikingly confirms the point I argue that "fully reaping the benefits of Western creativity requires an immersion into the Western culture that produced it."
Jan. 18, 2013 update: The Al-Qaeda-affiliated thugs who now rule much of northern Mali, according to Deutsche Welle, "have banned most types of music and forced local musicians to flee for their lives." Confusingly, the article goes on to say that "The Islamists banned music of any kind there - even cell phone ringtones." In all likelihood, the latter is correct. Jan. 28, 2013 update: The French-led victory over the Islamists means some music has returned to northern Mali.
May 20, 2013 update: Sujatha Fernandes of Queens College reviews musical developments in Mali post-Islamists:
It has been almost nine months since Islamic militants in northern Mali announced that they were effectively banning all music. It's hard to imagine, in a country that produced such internationally renowned music as Ali Farka Touré's blues, Rokia Traoré's soulful vocals and the Afro-pop traditions of Salif Keita.

The armed militants sent death threats to local musicians; many were forced into exile. Live music venues were shut down, and militants set fire to guitars and drum kits. The world famous Festival in the Desert was moved to Burkina Faso, and then postponed because of the security risk.

While French and Malian forces largely swept the militants from Timbuktu and other northern towns early this year, the region is still a battleground. Cultural venues remain shuttered. Even more musicians in the north are now leaving the country because they fear vengeful acts by the Malian Army, whom they accuse of discriminating against northern peoples. The music has not returned to what it once was.
July 30, 2013 update: An analysis of Al Maghrib Institute, a Wahhabi organization founded in Texas in 2002 and with many branches, will in late August 2013 run
a seminar entitled, "Fiqh of Chillin'."[1]As part of the seminar, there is a discussion on "how to advise someone to stop listening to music." Somewhat of a tradition exists among Islamic groups with respect to banning or restricting music. The Qur'an, they argue, suggests, for instance, that the playing of musical instruments is as corrupting as wine drinking[2]. There is also objection to the uncontrollable effects that music can have on individuals and the themes that are contained within modern music.[3]
Related Topics: Islam receive the latest by email: subscribe to daniel pipes' free mailing list This text may be reposted or forwarded so long as it is presented as an integral whole with complete and accurate information provided about its author, date, place of publication, and original URL.