The Trump administration's massively detailed "Peace to Prosperity" vision contains many specifics, some of which are currently reverberating in Israel and among the Palestinians.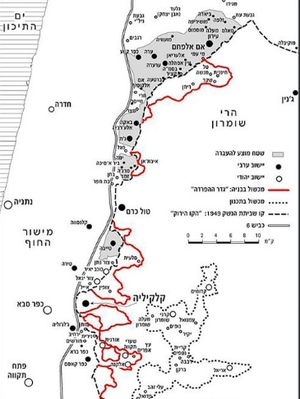 The shaded part at top makes up the (squished) Triangle.
One of the most surprising of these deals with an area known as "the Triangle," a region of Israel bordering on the West Bank and predominantly inhabited by some 300,000 Arabs. The Trump plan "contemplates the possibility, subject to agreement of the parties, that the borders of Israel will be redrawn such that the Triangle Communities become part of the State of Palestine."
In other words, no one will be evicted but Israel's border will be moved so as to exclude the Triangle, transferring it to become part of today's Palestinian Authority and (maybe) tomorrow's State of Palestine.
Moving the border is hardly a new suggestion, for several Israeli prime ministers have raised it, including Ariel Sharon in February 2004, Ehud Olmert in October 2007, and Benjamin Netanyahu in January 2014. In addition, Defense Minister Avigdor Liberman raised it in September 2016.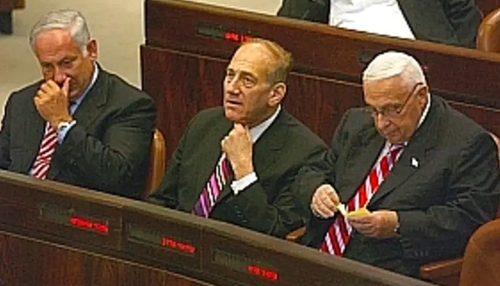 Ariel Sharon (R), Ehud Olmert, and Benjamin Netanyahu.
While attractive as an elegant and simple win-win solution to a mutual irritant – Israelis want fewer Palestinians in their country, Palestinians want to live in Palestine – it is in fact fraught with complications. Two problems stand out:
First, an overwhelming majority of Triangle residents prefer to stay in Israel, as shown by massive anecdotal evidence, politicians' statements, and survey research over fifteen years. Some of them emphasize that Israel is their home, others focus on Israel's superior living conditions over that of the poorer, authoritarian PA.
For example, the Islamist mayor of Umm al-Fahm, the largest predominantly Muslim town in Israel, responded negatively to Sharon's proposal: "the democracy and justice in Israel is better than the democracy and justice in Arab and Islamic countries." Ahmed Tibi, a viciously anti-Zionist member of Israel's parliament called PA control "a dangerous, antidemocratic suggestion."
In February 2004, an Arab research center found that Arab respondents preferred by a 10-to-1 ratio to remain Israeli citizens. Two polls in December 2007 agreed on a 4.5-to-1 ratio. A June 2008 poll found that Israeli Arabs preferred Israel to "any other country in the world" by a 3.5-to-1 ratio. A June 2012 poll found a similar ratio to this same question. A January 2015 poll found pride in being Israeli by a 2-to-1 ratio.
No poll has been taken since the Trump plan's release but Ayman Odeh, head of the Joint List party defiantly announced that "No one will deprive us of citizenship in the homeland where we were born." Mayors of three towns mentioned by name in the plan slammed the idea of being included in a future Palestine and demonstrations erupted. Israeli Arab media reactions was, "without exception" opposed to the idea. Israeli Arab views are as unequivocal as they are paradoxical.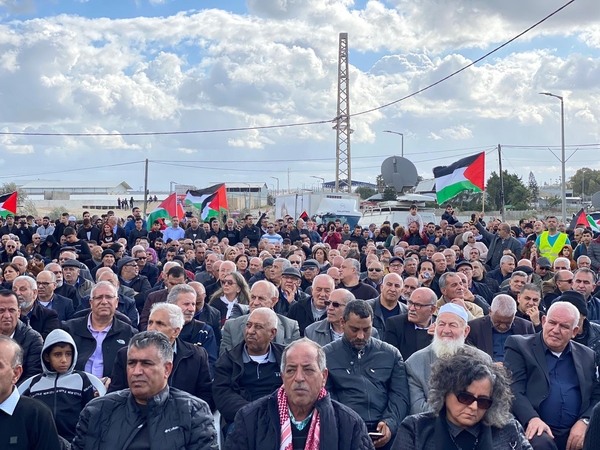 Joint List MPs led a protest against the Trump's plan on February 1, 2020, in Baqa al-Gharbiya. Note the eight Palestinian flags and the absence of Israeli flags – even as the participants demand to stay within Israel.
Second, if the prospect of a border move becomes real, Israeli Arabs can and will exercise their right as citizens of Israel to remove themselves from the Triangle and live in a region not slated to be turned over to Mahmoud Abbas & Co. This has already happened in Jerusalem where, to avoid finding themselves in Palestine, Arab residents have moved in sizeable numbers to such predominantly Jewish areas as French Hill and Pisgat Ze'ev (areas which the PA considers illegal Israeli settlements, by the way). The distinguished journalist Khaled Abu Toameh, who lives in a "Jewish settlement," humorously calls himself an "Arab settler."
The same movement is happening out of the Triangle: Jalal Bana reports: "almost entirely under the radar we have seen an interesting phenomenon where many Triangle residents have bought property in Jewish cities. ... Some have even moved in. ... This trend could really take off now: young couples ... will prefer to purchase apartments in places like Harish and Netanya and live there."
So, while transferring the Galilee Triangle from Israeli to Palestinian control looks like an elegant and simple win-win solution, it is sadly infeasible. The Israeli government has apparently rejected it
Of course, this topic drips with irony. The same Israeli Arabs who bluster contempt for the Jewish state and praise the murderers of Jewish children (note the extremists who serve as their parliamentary representatives) also desperately hope to stay in it rather than become part of Palestine. Perhaps Trump's suggestion will make them a touch more realistic, sober and loyal to their country.
Mr. Pipes (DanielPipes.org, @DanielPipes) is president of the Middle East Forum. © 2020 by Daniel Pipes. All rights reserved.

---
Feb. 4, 2020 addenda: (1) Khaled Abu Toameh in "The Real Reason Arabs in Israel Do Not Want to Live in 'Palestine'," gives reasons similar to mine for the reluctance: "The main reason Arabs in Israel are afraid of becoming Palestinian citizens is because they know that that that the Palestinian state will be anything but democratic."
(2) Ha'aretz reports that this idea came from Israel's Prime Minister, Benjamin Netanyahu.
(3) I have published an article ("The Hell of Israel Is Better than the Paradise of Arafat," Middle East Quarterly, Spring 2005) and a blog ("Hamas is Worse than Israel, Worse than Sharon") that provide the historical background to this topic.
Feb. 11, 2020 update: Blue and White leader Benny Gantz says that, as prime minister, he would not implement the Triangle transfer to the West Bank.
Feb. 20, 2020 update: Prime Minister Netanyahu announced that "The transfer idea needs to be erased. There isn't and there won't be any transfer, not one – Arab or Jew – will be uprooted from his home. I oppose that ideologically and practically." Comment: Of course, the Triangle plan does not envisage uprooting anyone. Still, this seems to be a rejection of it. Ben Caspit sees in the Triangle transfer a plot concocted by Netanyahu with the Trump administration to trap Gantz: he must accept the plan to keep his rightist backers but doing so means losing the Arab-dominated Joint List party's support.
Mar. 4, 2020 update: Israeli Arab anger at the Triangle transfer paragraph in the Trump plan apparently increased their turnout in the Mar. 2 election. According to Yousef Makladeh of the Statnet Research Institute, Arab turnout was 49.2 percent in April, 59.2 percent in September, and 64.7 percent in March. At the same time, Arab support for Zionist parties went down from 30 to 20 to 12 percent. Ariel Ben Solomon quotes Rodayna Badir of Hebrew University:
The people are afraid, not only about a transfer of land, but of what they see as the real goal: a transfer of population. If you ask Israeli Arabs, they will say that part of their identity is Israeli. The younger generation feels more Israeli than Palestinian, but now they feel the state is accusing them of being traitors.