Dear Reader:
I am pleased to inform you that a few spots remain for the trip to Dubai and Abu Dhabi on Nov. 4-11, 2017. I hope you will join me. Click here for detailed information.
The United Arab Emirates stands out in a troubled region. There's nuclear build up (Iran), potential water calamity (Iraq), civil war (Syria, Yemen, Libya), and hardening dictatorships (Turkey, Egypt). A country of nearly 10 million in the Persian Gulf, it offers just about the only place in the Middle East outside Israel where one can live the good life. Plus, if offers a model for other Arab Muslim countries.

Despite the UAE's many challenges – proximity to Iran and Iraq, almost no natural fresh water, oil prices tanking, 8/9ths of the population foreign, violent Islamists lurking – its inhabitants generally live prosperous and ordered lives.
This will be the fifth trip I have led since 2012. (Others were to Israel in 2012 and 2015, Cyprus in 2013, and three European cities in 2016). The success of prior trips encourages me to offer another one. In preparation for this trip, I spent a month in the UAE in 2015-16; you can see my two articles reflecting on the country here and here.

 Sheikh Zayed Mosque, in Abu Dhabi. 
This is not a tour nor a mission but a fact-finding expedition to one of the world's fastest changing societies. Travelers have found that the cohesive outlook of the group, the good value, and the unique focus of our topics have made these enjoyable and memorable experiences.
As in the past, this trip will include a mix of conventional sites and political discussions. We will visit the world's tallest building, the desert, a Persian Gulf island, and much else. We will meet Emiratis and expatriates, analysts and practitioners, local experts and activists, political, security, business, and cultural figures. In addition, you will be hearing from me through the week.
The goal is to learn as much as possible about this fascinating old-new country. Think of it as a semester condensed into seven days.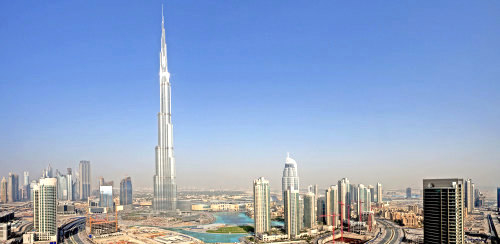 The world's tallest structure, in Dubai.
Again, for more information please see the trip web site by clicking here. Just a few spaces remain; registration will be processed on first-come, first-served basis.
I look forward to traveling together on this interesting and exciting trip.
Sincerely,
Daniel Pipes