In the Path of God

Islam and Political Power
by Daniel Pipes
Transaction Books, New Jersey, August 2002
373 pp. $29.95/£24.95
ISBN: 0-7658-0981-8 (paper)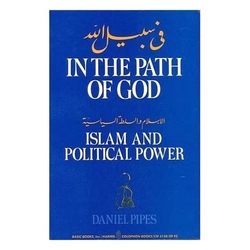 New York: Basic Books, 1983 (first edition)
Audio recording: Library of Congress RC 20541
Buy this book at Amazon.com
Buy this book at Amazon.ca
Buy this book at Amazon.co.uk
Buy this as an ebook at Google
From the 2002 edition:
American awareness of Islam and Muslims have risen to seemingly unprecedented heights in the aftermath of September 11, 2001, but this is not the first time these topics have dominated American public life. Once before, during the period of the Iranian revolution and hostage crisis of 1979 to 1981, Americans found themselves targeted as a consequence of a militant interpretation of Islam.
Daniel Pipes wrote In the Path of God in response to those events, and the heightened interest in Islam they generated. His objective was to present an overview of the connection between in Islam and political power through history in a way that would explain the origins of hostility to Americans and the West. Its relevance to our understanding of contemporary events is self evident.
He shows how Muslim antagonism toward the West is deeply rooted in historical experience. In premodern times, the Islamic world enjoyed great success, being on the whole more powerful and wealthier than its neighbors. About two hundred years ago, as Muslims became aware of the West's overwhelming force and economic might, a crisis developed. While Muslims found some elements of Western civilization attractive, they also found much of it alien and distasteful. The resulting resistance to Westernization has deep roots, has been more persistent than that of other peoples, and goes far to explain the deep Muslim reluctance to accept modern ways. In short, Muslims saw what the West had and wanted it too, but they rejected the methods necessary to achieve this. This, the Muslim trauma, has only worsened over the years - as has become so evident of late.
Reviews of In the Path of God
"Among the outstanding contributions to public-policy debates are Daniel Pipes's In the Path of God, a lively history of modern Islam and the politics it produces."
- Ellen Wilson, The Wall Street Journal, September 20, 1983
"A cogent study of Islam as a political force in the modern world."
- CW, National Review, November 11, 1983
"Scholarly, far-ranging, and thoughtful ... the debate is interesting, and Pipes has make a stimulating contribution to it."
- Ernest Gellner, The New Republic, December 5, 1983
"Brilliant, authoritative ... demonstrates encyclopedic knowledge of Muslim intellectual history... Few other writers have explained so lucidly such complex developments in Muslim history... Pipes' brief account is certainly useful to the nonspecialist trying to understand what seems to be the inherent political instability of the Muslim world ... forcefully presented and cogently argued ... The book is a valuable contribution to our understanding."
- Thomas W. Lippman, The Washington Post, December 11, 1983
"Mr. Pipes's forte is logical argumentation. The arguments here are usually clever, occasionally even brilliant, and invariably presented with verve and style"
- Lisa Schiffren, The Wall Street Journal, December 23, 1983
"Pipes has handled his subject well. It is difficult these days to address the question of Islam, the Arabs, and their relations with Israel and remain nonpartisan. Pipes has managed to do just that. He has wended his way through that minefield unscathed. His book is a scholarly attempt to explain what is going on in that little-known, volatile, and very important part of the world - and to define the role that religion plays in it. For that reason, it is well worth reading."
- Ronald Taggiasco, Business Week, January 30, 1984
"Daniel Pipes's... insightful presentation that sets In the Path of God apart from the recent spate of didactic efforts by Islamicists and quickie potboilers by journalists on the 'Islamic revival.'... a reasoned, literate explication of whence this bewildering Islamic resurgence has come and whither it is going. Specialists...can also profit from Mr. Pipes's approach... Mr. Pipes, a Harvard lecturer who has hitherto been known principally as an expert on medieval Muslim armies, helps us make sense of it all."
- Bruce D. Hardcastle, Policy Review, Spring 1984
"Daniel Pipes' ambitious work... stands out for its historic sweep, its focus on the political aspects, and the cohesion that comes with single authorship... Pipes, with no apparent ax to grind is not afraid to predict that religious fundamentalism, as the answer to modern political and economic challenges, will fail..."
- Foreign Affairs, Summer 1984
"He has resisted a widespread tendency to translate Muslim self-expression into social science jargon as unintelligible as any mosque harangue. His unadorned interpretation strikes a judicious balance between faithfulness to sources and clarity of presentation... Here Pipes is at his very best."
- Martin Kramer, The American Spectator, July 1984
"This book, ambitious in its scope, eloquent in its presentation, and provocative in its judgments, is a welcome addition to the growing body of new Western writing on the interaction of politics and Islam. It offers both a comprehensive historical review and a wide-ranging contemporary survey of Islamic politics, in their doctrinal as well as practical manifestations. The result is a concise and erudite introduction to this subject for the general reader, and an interesting interpretation for those with more background in Islamic studies...In pursuing its distinctive themes, the book largely succeeds on all three counts, demonstrating mastery of detail combined with an ability to capture the 'big picture' and make general arguments in the grand style."
- David Pollock, Middle East Insight, November/December 1984
"intellectually scandalous ... although Pipes pays his obeisance to imperialist Orientalism he masters neither its genuine learning nor its pretense at disinterestedness. ... There is a flat assertion of quality, which the Western policy-maker, or his faithful servant, possesses by virtue of his being Western, white, non-Muslim. Now this, I submit, is neither science, nor knowledge, nor understanding: it is a statement of power and a claim for relatively absolute authority. It is constituted out of racism. ... Pipes – and the rows of like-minded Orientalists and experts he represents as their common denominator – stands for programmatic ignorance. ... Pipes obdurately and explicitly aligns himself with colonial Orientalists like Snouck Hurgronje and shamelessly procolonial renegades like V.S. Naipaul, so that from the eyrie of the State Department and the National Security Council he might survey and judge Islam at will."
- Edward Said, "Orientalism Reconsidered," Race & Class, 27 (1985): 96-98.
Other Editions
Spanish
El Islam de ayer a hoy
translated by Blanca Sagarna and Ramón Palencia
Madrid: Espasa-Calpe, 1987
Turkish
Tanrı Adına
translated by Celal Kapkın
Istanbul: Yaprak Yayınevi, 1991
An English-language edition published in India of In the Path of God is available from: IndiaClub.com, or
Biblia Impex Pvt. Ltd.
2/18 Ansari Road
New Delhi - 110002, India
Email: bibimpex@nda.vsnl.net.in