Nothing Abides

Perspectives on the Middle East and Islam
by Daniel Pipes
New Brunswick and London: Transaction Publishers, 2015.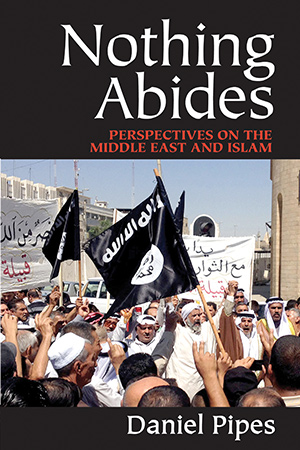 Daniel Pipes has collected some of his sharpest and most prescient writings from the quarter century 1989–2014. In them, he addresses a range of current topics, from the origins of the civil war in Syria to denying the Islamic factor in terrorism, to the way to resolve the Arab-Israeli conflict. Pipes pursues two themes in particular: the internal instability of Muslim-majority countries, in which nothing abides, and the expression of Muslim drive to apply Islamic law.
Pipes' interests concentrate on the Middle East as understood from a historical point of view and on the role of Islam in politics. Divided into five thematic sections, this work addresses the Arab-Israeli conflict, Middle Eastern politics, Islam in modern life, Islam in the West, and individuals connected to American Islam.
Pipes' deep knowledge, gained over forty-five years of study, combined with incisive writing and a well-regarded courage to speak out on controversial topics make Nothing Abides a compelling read for Middle East specialists, students, and the interested public.
Read the Introduction to Nothing Abides
Buy this book at Amazon.com
Hardback: $69.95
Paperback: $24.95
Kindle: $13.99
Critics on Nothing Abides
A "lucidly written and very lively book."
- Edward Alexander, Algemeiner.
"Daniel Pipes' most masterful of his many books and articles in his specialty, many commonly-held myths are exploded with extensive documentation. Nothing Abides is compelling like a bestseller and yet precise and scholarly."
- Richard Stoecker, Springfield News Leader
---
Contents
Introduction, p. ix
I The Arab-Israeli Conflict
1. Peace Process or War Process? p. 3
2. The Muslim Claim to Jerusalem, p. 11
3. The Hell of Israel Is Better than the Paradise of Arafat, p. 39
4. The Year the Arabs Discovered Palestine, p. 51
5. Mirror Image: How the PLO Mimics Zionism, p. 65
6. The Road to Damascus: What Netanyahu Almost Gave Away in 1998, p. 75
II Middle Eastern Politics
7. Understanding Middle Eastern Conspiracy Theories, p. 85
8. Dealing with Middle East Fears of Conspiracy, p. 99
9. The Alawi Capture of Power in Syria, p. 125
10. The Scandal of US-Saudi Relations, p. 151
11. Obituary for Nizar Hamdoon (1944–2003), p. 169
12. What Egypt's President Sisi Really Thinks, p. 173
III Islam in Modern Life
13. Can Islam Be Reformed? p. 181
14. You Need Beethoven to Modernize, p. 189
15. Denying Islam's Role in Terrorism: Why? p. 199
16. The Rushdie Rules Ascendant, p. 213
IV Islam in the West
17. Muslim Immigrants in the United States (with Khalid Durán), p. 225
18. CAIR: Islamists Fooling the Establishment (with Sharon Chadha), p. 239
19. Barack Obama's Muslim Childhood, p. 259
V Individuals and American Islam
20. Stealth Islamist: Khaled Abou El Fadl, p. 273
21. Waging Jihad through the American Courts: Iqbal Unus, p. 283
22. A Palestinian in Texas: Riad Hamad, p. 291
23. Lefty for Radical Islam: Dennis Kucinich, p. 303
Index, p. 311