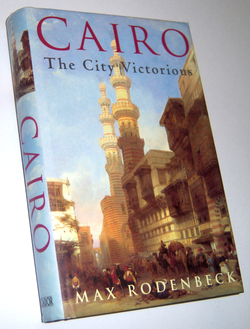 "He who has not seen Cairo has not seen the world," speaks a character in the Thousand and One Nights, the famous collection of medieval Arabic tales. "Its dust is gold; its Nile is a wonder; its women are like the black-eyed virgins of paradise; its houses are palaces; its air is temperate; its odor surpassing that of aloewood and cheering the heart."
Max Rodenbeck, a journalist working for The Economist magazine, does not quite make such splendiferous claims on behalf of Cairo in his valentine to Egypt's capital city, but he does not argue with these sentiments. His is a superior sort of paean, for it mixes the intensity of first-hand experience with the fruits of a thorough immersion into the written record. The result is both jaunty and learned, a pleasing whole that will interest those who wish to imagine that exotic locale as well as those who have personally experienced the city and wish better to understand its rhythms.
The author, though not Egyptian himself, has surprisingly intimate ties to the subject of his book. He tells how in the heyday of colonial rule the woman who would become his grandmother fell off a donkey - only to be helped up by a stranger, who in short work went on to become his grandfather. Cairo is also the city where, from the age of two, he spent a large chunk of his childhood and where he went on to live for twelve years as an adult.
This reviewer, who himself spent three memorable years in Cairo, can attest that the city is unlike almost any other in the world. The sheer intensity of humanity there gives it a noisiness and a vitality that makes even other major cities feel like suburbs. The author captures the Cairene's addiction to gas fumes and overcrowdedness by quoting a native on the subject of the (relatively) sleepy, well-ordered city of Tunis: the streets there "are so empty. And they're full of ..." she winced, releasing a little puff of indignation, "trees!" Not surprisingly, given this congestion, "Loneliness, that bane of city life in the West, is almost unknown."
Statistics bear out Cairo's amazing density. With a population of around 15 million, it ranks as one of the world's largest cities and with an average of 70,000 persons per square mile it is also, according to figures cited by Rodenbeck, the densest. In some places the density reaches ten times that number. That's like fitting the entire population of Boston into an area like that of Central Park in New York. All this takes place in a city where apartment houses are usually only a few stories high.
Size and crowdedness tend to make Cairo less than a favorite for travelers - more a place to bear and get through than to enjoy. But if you can endure the noise, dirt, and traffic, there is much to discover. The city contains antiquities from an amazingly diverse collection of eras; only Rome can try to compete with Cairo's monuments that span the five thousand years from the great pyramids of Giza to the present.
Rodenbeck breezes through ancient times and settles on the medieval period, the time when Cairo gained its Thousand-and-One-Nights reputation, then he traces its decline during the dismal period 1500-1800. His account comes most to life in the late nineteenth century, when Cairo revived in the guise of a partially European city (in 1910, he reckons, one-eighth of the city was foreign-born).
The imperial city might have had a debilitating hierarchy (symbolically, new mosques were built in the servants' quarter), but it also had a buoyant sense of energy and purpose. The British masters created a new city alongside the old one, and it was a heady, exciting place to live for the Europeanized elite. In its eyes, Muslim Cairo became "a mere backdrop, a place to venture for occasional thrills or for sketching picturesque views." The city's self-image changed, as did mores: "Courting Levantine couples whispered 'Je t'aime'; to say the same thing in Arabic came to seem a touch vulgar." Such Europeanisms did little to win the favor of actual Europeans, however. In the stringent words of a British orientalist in 1892: "They dance with foreign ladies, wear Frankish clothes, smoke cigarettes, enjoy French plays and, but for their Eastern habits of tyranny, peculation, insincerity and corruption, they might for all the world be Europeans."
This era came to a shuddering end with Gamal Abdel Nasser and the coup of 1952. "The first half of Cairo's twentieth century saw the West overwhelm the East. High heels and two-tones clattered up marble stairs; camelskin babouches rustled down. The century's second half saw the reverse: silken slippers shuffling down, bare peasant feet and army boots stomping up." Rodenbeck's account ends with a flourish as he explains how the people's takeover of their city made it more robust but also damaged it. Cairo suffered, as did the whole country, under Nasser's tyranny and the cost of his foreign adventures. Even Rodenbeck's infectious narrative takes a somber turn, weighed down by totalitarian rule at home and military disaster abroad.
Fortunately, things improved with Nasser's death in 1970 and the lighter rule of Sadat and Mubarak that followed, though our author finds much not to like in the present-day city. Fanatical Islamic sheikhs who would ban zucchini because of its suggestive shape are one sort of problem; the inevitable proliferation of McDonalds are another. Still, he counts on the city's "shambolic grandeur and operatic despair" to continue, on its "enduring, life-giving nonchalance" to sustain it beyond jihad or hamburgers. Further, whatever its foibles, Cairo continues to serve as the cultural capital of the Arabic-speaking countries, producing their most important books, songs, and movies. It also dominates the life of Egypt in terms of government, commerce, and much else (Cairene football teams seem always to win the league championships).
Few cities can inspire as interesting a book as Cairo: The City Victorious and few writers can carry it off as well as Rodenbeck; this rare combination makes his book a treat to read and then a pleasure to keep on a nearby shelf.