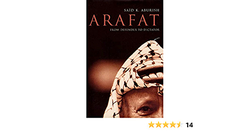 Yasir Arafat, recent news reports suggest, plans to retire as CEO of the Palestinian revolution in February 1999 due to "poor health and extreme weakness." Curiously, the same reports indicate that Mr. Arafat plans not to live in Gaza or the West Bank (the areas he now controls) but in Cairo.
Why Cairo? Well, as a reader of Saïd Aburish's Arafat: From Defender to Dictator knows, because that's the city where he was born and reared in and where he lived until the age of 28. In fact, we learn, Mr. Arafat's first political affiliation was an Egyptian student organization closed to Palestinians and he fought against Israel in 1948-49 for an Egyptian group. In the 1950s he served in the Egyptian military and the first time he visited Moscow in 1968, he traveled on an Egyptian passport. Despite his many years among Palestinians, Mr. Arafat still speaks Arabic like an Egyptian, a fact that has sometimes impeded his career; on first encountering him in 1967, Mr. Aburish recounts, "West Bankers did not like his Egyptian accent and ways and found them alien."
Mr. Aburish, a Palestinian journalist living in London, excels at this sort of insight. He explains Mr. Arafat's deep grounding in Islam and demonstrates his abiding parochialism. With a pithy phrase (describing Arafat as someone with "an international veneer and a tribal core"), the author captures the elusive and contradictory nature of his subject, making his book an excellent place to learn about the personality and career of Arafat (but wait, there's a catch).
Mr. Aburish reveals much of interest about his subject. Notwithstanding Mr. Arafat's claim to belong to a noble Jerusalem family, we learn, his father was of an undistinguished Gazan pedigree. In the 1950s, the future chairman's "only source of entertainment was watching cartoons such as Tom and Jerry and Road Runner . . . a way of unwinding which he has kept to this day."
With almost a sense of wonder, his biographer notes that Arafat is short, ugly, and disorganized; that he writes badly, talks uninspiredly, and acts too impulsively; that he is "devoted to politics, but without any specific ideology." How, then, he muses, did a person with such qualities rise to become a world figure?
By obsessively, energetically, imaginatively, and persistently fusing his personality with the Palestinian cause. (It takes nearly an hour to tie his Arab headdress so that it resembles the map of Palestine.) Mr. Arafat has an ability to convince and inspire; and he often showed bravery. Further, Arafat is "a natural strategist" who "demonstrated an uncanny sense of timing and a superhuman ability to move into the breach" when an opportunity appeared.
This biography also shows how the man's strengths and weaknesses are, as is so often the case, the inverse of each other. Mr. Arafat's absolute unwillingness to exclude any Palestinians, from communists to Islamists, from idealists to thugs, also accounts for his rudderless leadership. His emphasis on propaganda wins him wide support but has its costs: "He paid more attention to image-creating than to building a sound military structure."
Mr. Aburish makes no attempt to hid Mr. Arafat's many flaws-the hyperbolic self-promotion, casual disdain for the truth, and cynical exploitation of others, especially fellow Palestinians. Pulling no punches, Mr. Aburish blames Mr. Arafat for the colossal Palestinian mistakes on his watch, including the "loutish" behavior that led to civil war in Jordan, the PLO's "lunatic" engagement in terrorism, and the "thuggery" in Lebanon. As for the present, he blames Mr. Arafat's "dictatorial inclinations" for the mess in the Palestinian Authority, where the standard of living is falling, freedoms increasingly curtailed, and personal safety ever more in doubt.
But there is a huge problem with this biography. While Mr. Aburish offers fine insight into Arafat's quirks and contradictions, he is wildly unreliable - to the point of parody - when it comes to politics. All he writes about the United States and Israel is flawed; nothing can be trusted. For example, he absurdly ascribes the 1973 Arab-Israeli war to Henry Kissinger's "selfish" rivalry with the secretary of state, William Rogers - as though Middle Easterners had nothing to do with the conflict. He declares that "Israel is wholly responsible for the stalemate in the peace process," as though the huge number of Palestinian transgressions (concerning the PLO charter, the extradition of terrorists, the jihad rhetoric, and so on) simply does not exist.
This odd mix of biographical insight and political folly renders Mr. Aburish's biography only fitfully useful - and easily misleading. To understand the strange man who leads the Palestinians, it would be better to read The Mystery of Arafat, the short 1995 study by Danny Rubinstein, an Israeli journalist. There you'll find the sense without the nonsense.