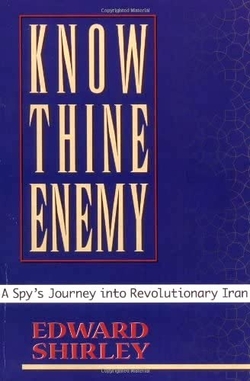 Twenty years of mobs shouting "Death to America" and repeated acts of terrorism have irreparably harmed Iran's reputation in the West. A country long renowned as the France of its region, famous for the beauty of its language, the sophistication of its culture, and the erudition of its scholars has become a byword for fanaticism and violence. Still, the ancient civilization persists, and with it a capacity to intrigue and charm foreigners.
Edward Shirley, the pseudonym of an ex-CIA agent, devoted many years to the study of Iran, mastering the language, immersing himself in the poetry and the history, meeting hundreds of Iranians, even becoming romantically involved with two Iranian women. Yet the total break in U.S.-Iran relations meant that he never visited his country of specialty.
Despairing of entering Iran legally, Shirley did the next best thing and, after leaving government service a few years ago, arranged for a trucker to smuggle him from Turkey to Iran. This meant he had to squeeze himself into a coffin-like wooden box under the driver's seat where, beset by claustrophobia and (imaginary) terrors, he traveled hundreds of miles. His stay in Iran was brief, just a few days, and he met an odd assortment of individuals, but the depth of his knowledge and his fine powers of observation make the trip a uniquely valuable one for the reader who chooses to accompany him.
Know Thine Enemy offers two dissimilar benefits: subtle observations about a complex culture and an ex-spy's report from enemy territory. Shirley has the insight and literary skills to explain this country, from the superficial ("In Iran, shifting gears requires both clutch and horn") to the profound ("Iranian Shi'ites see history as a long, ugly, deceitful enterprise"). An American audience that understandably associates Iran with barbarism should know that the Persian language "can make everyday speech sound like an epic poem."
The ex-spy's report reveals a startling monotony of views. Nearly every one of Shirley's interlocutors regales him with tales about the misery of living under theocratic rule. "The mollahs [clerics] betrayed God" announces a young woman. A jewelry merchant finds that the Iranian identity is gaining at the expense of the Islamic one. "Imagine a Muslim embarrassed to go to a mosque!" bitterly admits a man about himself. "That is what the revolution has done." The Islamic enthusiasm of the late 1970s is now so remote that it seems like a collective stupor: "for a few years we all lost our minds."
It's reached the point, as Shirley's truck driver puts it, that "If you don't hate the clerics, you don't have friends." Iranians openly flaunt this revulsion. The driver explains: "Everybody hates them. You can't get arrested for cursing the mollahs in the streets. Everybody would be in jail." The ayatollahs have so deeply discredited Islam, Shirley finds, that they destroyed "in under twenty years identities and loyalties built over fourteen hundred." He raises the prospect of Islam being ejected from the public realm, "perhaps taking Muslims where they'd never gone before."
What went wrong? How did the ayatollahs not just become hated but endanger Islam itself? Shirley discerns a betrayal of Persian culture at the heart of the problem: "revolutionary Muslims had made war on Persia's rules of politeness hierarchy, etiquette, and charm." Life has become distinctly less pleasant. "The revolution took away female beauty and replaced it with female virtue." The time has come, in other words, to add Iran to the already long list of failed twentieth-century revolutions.
For several Iranians, the luck of meeting an actual American (and a Persian-speaking one at that) prompts them to shower Shirley with welcomes ("We all miss America"), then berate him for Washington's passivity. "[T]ell America to strike the mollahs," an old man instructs him. Repeatedly he is asked why the all-powerful U.S. government wants the ayatollahs to remain in power, a question he cannot really answer.
These conversations point to the strange and convoluted feelings Iranians harbor toward the United States. "All those people who yelled 'Death to America! Death to America!' really liked America," Shirley hears. More than that, he finds the ayatollahs' ugly regime has diminished anger toward the United States over time. Or, as his driver wryly comments, "If America destroyed the mollahs, we'd forgive you for [supporting] the Shah."
Unfortunately, Shirley draws the wrong policy conclusion from all this, calling for an end to U.S. sanctions on Iran so that American business interests can enter the country and undermine the regime from within. That's a hope, not a plan. Instead, his quite brilliant spy's report points to the opposite conclusion: Keep Americans away from a failed regime and let the populace increasingly look to us as the salutary alternative to the ayatollahs' repulsive dictatorship. Though the author himself does not realize it, Know Thine Enemy makes a strong case to keep pressure on the clerics.