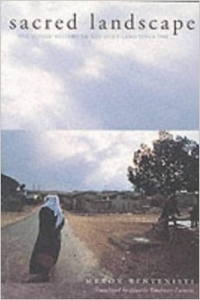 Going where no post-Zionist has gone before, Benvenisti conjures with the Palestinian "right of return." A Palestinian "return" to what is now Israel being still a new subject for Israelis to excoriate themselves with, the author seems shy to reveal what exactly is on his mind - that Palestinians from around the world should either be allowed in the country or compensated by it for their losses. Instead, he argues a more modest point: that the Arab citizens of Israel who were displaced by the war of 1948-49 "be allotted parcels of their land and permitted to renovate their cemeteries and holy places." This solution, and not agreements signed by diplomats, he deems the only way the two populations can solve their differences and both live "in the same country" (yes, the same country - Benvenisti believes in what he calls the Confederation of Israel/Palestine, a binational state). Given the politics of the Arab-Israeli conflict, however, his suggestion can only be understood as a crucial first step toward Israeli acquiescence to a general "right of return."
Benvenisti's long book consists of details in what he calls "the struggle for the possession of [Israel's] physical landscape." He documents in detail what happened to Arab property during the past fifty years, bitterly indicting Israelis again and again for maltreating the land they conquered -changing names, denying historical credit, pushing residents out, and much, much more.
For Benvenisti watchers - a small group that looks on with fascination as this Israeli writer finds innovative new ways to injure his country - the introduction to Sacred Landscape may be the book's most interesting section. In it he recounts accompanying his father on mapping trips that played a major role in establishing "a Hebrew map of the land," then admits hating his father's success: "His map triumphed and I, his dutiful son, was left with the heavy burden of the fruits of victory." So that's it; Benvenisti's bizarre politics are symptoms of a delayed filial rebellion. How pathetic.