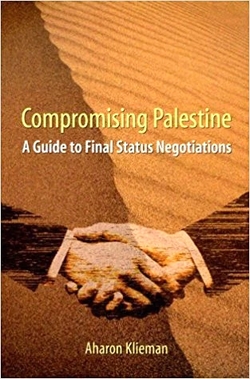 Declaring his intention "to goad" the negotiators "into confronting the endgame sooner rather than at the very last moment," Klieman (professor of international relations at Tel Aviv University) has written a study that methodically goes through the final-status issues facing Israeli and Palestinian dealmakers.
Some notable points from his study: That partition is "at the center" of Middle Eastern peacemaking and "may well be the only way out" for Israelis and Palestinians. The motivating force behind compromise on what Klieman calls the "Palestine issue" is the outside world's desire to see the Arab-Israeli conflict "struck from the global agenda." In contrast to years past, ambiguity "no longer really serves the cause of peace." The heart of the dispute concerns the ultimate placing of the boundaries.
As these insights suggest, Klieman brings an orderly intelligence to his subject matter; his views also indicate how far the Israeli debate has moved in recent years - to the point that a Palestinian state is casually assumed. Unfortunately, he also brings the typical Israeli too-eager-to-settle attitude, one which prompts him to settle into a lazy moral equivalence between the two main parties to the conflict. Thus, the author finds that "all sides live within a deep protective shell," as though to imply that the one side had as much reason to reside within that shell as the other. He also accepts such hazy formulations as "peace is the great unifier," seeming to miss the self-evident fact that peace on the Palestinian side amounts to something quite different from its Israeli homonym.