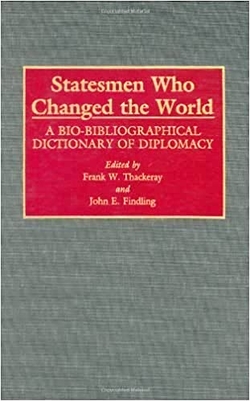 I enjoy reference books as much as the next person, but this one just doesn't make sense. First, the format is puzzling. Why supply information on archival materials to accompany seven-page biographies? Do the authors expect a reader to be so inspired by these potted accounts that he'll launch right into primary-source research of his own? Not likely.
More important, the selections are illogical. Biographees are supposed to be "those individuals, regardless of their title or position, who most influenced the world in which they lived" in the post-Renaissance Western world. But they're a complete hodge-podge. Why include John Quincy Adams, Thomas Jefferson, and James Madison but exclude George Washington? Why include James G. Blaine, American secretary of state during the late nineteenth century, but not his British contemporary William Gladstone? Why are Dean Acheson, George Kennan, and George Marshall all present but not Harry S Truman? Why let in J. William Fulbright among the super illustrious? Lester Pearson is in but Leonid Brezhnev is not. What's Niccolo Machiavelli doing among "statesmen who changed the world"? (He was a pretty minor actor.) Why is Simón Bolívar missing while Luis María Drago and Carlos R. Tobar are present?
Idiosyncratic selections of this sort render a reference book nearly useless, for however well executed the individual biographies (and most do read well), the reader can't predict who'll be in the book and who not. So he'll probably not use it.