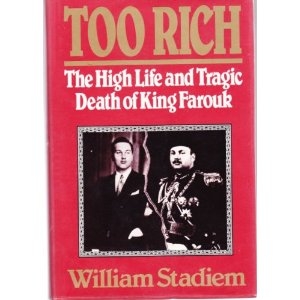 The author previously published a biography of Marilyn Monroe and writes scripts for L.A. Law - not exactly promising credentials for a serious study of Middle East politics. Nor does King Farouk (r. 1936-52), the once infamous by now nearly forgotten playboy-king, offer a conventional vehicle for reinterpreting mid-century Egyptian history. But Stadiem has done original research and some hard thinking; and the result is very impressive. Too Rich offers both the screenwriter's flair for capturing the high life of Cairo and Alexandretta with the historian's sense of the social and political changes underway.
Stadiem argues two main points. First, Farouk was not always the decadent, bloated creature whom the Free Officers overthrew in 1952; quite the contrary, until about 1942, he was a handsome and much-loved figure, with a genuine, far-reaching, and unprecedented appeal among ordinary Egyptians. Indeed, Stadiem holds that his "brief life of extremes" made the king "one of the great curiosities of the twentieth century."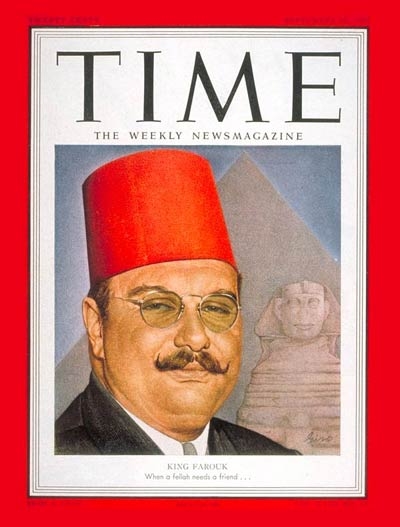 King Farouk on the cover of Time magazine, Sep. 10, 1951.
Second, Farouk had a significance far beyond his playboy reputation. Going along with the British would have made his life easy, insuring him a long reign. But Farouk chose not to go along, thereby unleashing the furies that led to his own downfall. Of particular importance was his defiance of Sir Miles Lampson, London's emissary to Cairo from 1933 to 1946. "The Farouk-Lampson war is . . . more important to the modern history of Egypt than World War II; it certainly did more fundamental harm." Stadiem holds that Farouk (whom he dubs "the Nijinsky of the very mad ballet of Egyptian politics") very nearly became a great ruler; in his near-miss lies his tragedy.