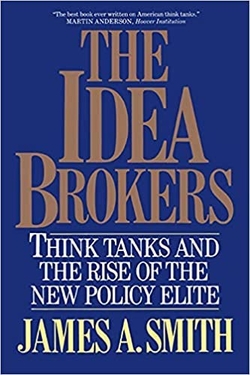 According to Smith, formerly of the Twentieth Century Fund, the first attempt by experts to influence politics occurred in 1865 when a group of scholars meeting in Boston dubbed themselves the American Association for the Promotion of Social Science. The creation of the Russell Sage Foundation in 1907 created the model of a research and advocacy organization. For the next sixty years, science, efficiency, and technology inspired the think tanks; liberalism became an almost unquestioned orthodoxy.
This era came to an end with the emergence of conservative institutions in the 1970s, fundamentally changing the nature of think tankery. The conservatives, Smith argues, "took ideas and intellectual abstractions more seriously ... than had the midcentury inheritors of pragmatism and liberalism." Indeed, the conservatives portrayed intellectual error as the root cause of modern problems. With this challenge to the prevailing orthodoxies, think tanks came into their own.
But what actual impact did they have? Smith sees the conservatives' long-term impact having less to do with convincing the public than in helping to shape a conservative policy elite. "Think tanks of the Right did not make a revolution; rather, they prepared the revolutionary cadres who ascended to power in 1980." Expertise has become the means to advancement for many of those actively engaged in policymaking; Ph.D.s have longer and more varied public careers than do elected officials; and they have filled nearly every cabinet position in the Federal government.