We must remember that we are always within a hairsbreadth of invasion.
- Joseph Stalin, 15 February 1939[1]

Surely we have not deserved that!
- Foreign Commissar Molotov, responding to the German declaration of war, 22 June 1941[2]

The most distrustful persons are often the biggest dupes.
- Cardinal de Retz[3]
The culmination of conspiracism took place between 1941 and 1945 on the Eastern Front of World War II, where Hitler's and Stalin's armies met in a battle that resulted in large part from what may be the two greatest mistakes in the history of warfare. Hitler erroneously started a two-front war; Stalin did not see what was coming. Stalin's error being closely tied to his fear of conspiracy, I look at it in some depth.
Information Ignored
The German-Soviet Non-Aggression Pact of August 1939 (and its secret annexes) had called for a ten-year truce between the two sides. By December 1940, however, Hitler had decided to renege on it and launch a surprise attack against the Soviet Union. Throughout the first half of 1941, Stalin had a great abundance of accurate information about German activities and plans, all of it accurately pointing to Hitler's plans.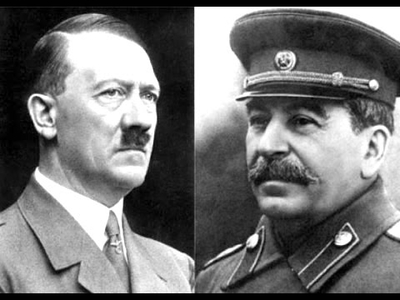 HItler and Stalin.
The warnings began in January 1941, with a U.S. government alert based on information from Berlin; this was confirmed by further American admonitions, letters from Winston Churchill, and a wide range of Soviet sources (including embassy sources in Berlin, the brilliant Richard Sorge reporting from Tokyo, and others). By late March, Moscow was steeped in rumors of approaching disaster. In perhaps a unique act of diplomacy, the German ambassador to Moscow on 19 May revealed the date of his government's invasion plan. One defector from the Nazi forces who told of an imminent invasion was ignored; another was summarily executed for spreading disinformation. In all, the Kremlin received one hundred or more separate warnings of a Nazi assault.
Beyond these diverse and authoritative sources, Soviet commanders at the front could see for themselves the massive German preparations. The Nazi assault forces, prepared over a ten-month period, ranged along an 1,800-mile front from the Baltic coast to the Black Sea; the Ostheer included 3.2 million men (out of a total German force of 3.8 million), 600,000 trucks and 600,000 horses, 7,000 artillery pieces, 3,350 tanks, and over 2,000 airplanes. In all, "Few nations have been better warned of impending invasion than the Soviet Union in June 1941."[4]
Yet Stalin chose to ignore, in both public and private, all this information.[5] To every alarmed piece of news he had roughly the same reply sent down: "Don't panic. Take it easy. 'The boss' knows all about it." On Saturday evening, 21 June, Soviet military leaders spent a "quite ordinary" evening going to the theater or engaged in other amusements; security offices were nearly empty. Stalin dismissed reports of imminent attack as "panicking to no purpose"[6] and himself may have watched a movie.
Over the years Stalin had taken many steps to win the Nazis' confidence. As the German ambassador in Moscow correctly reported back, "Stalin has set himself the goal of preserving the Soviet Union from a conflict with Germany."[7] Already in 1938, during the Czechoslovak crisis, he seemed eager to show the Nazi leadership that no Soviet forces were moving toward Czechoslovakia. He went out of his way punctiliously to fulfill every commitment made in the non-aggression pact. In 1940, as Nazi forces rolled west, he adopted an anti-French and anti-British line. Soviet intelligence agents in Germany had to work under a uniquely restrictive set of instructions, while Stalin passed on some of the warnings he received (including at least one from Churchill) to the Germans. So complete was Stalin's goodwill that full trains loaded with Soviet goods were entering Nazi-held territory even as the German assault began (and despite the Germans' having stopped making deliveries months before).
In the spring of 1941, Stalin took many steps to demobilize Soviet opinion. Anti-Nazi statements had already ceased entirely, earlier materials were withdrawn from circulation, friendship was publicly declared, and Soviet citizens of German origins were released from incarceration. A public statement on 14 June rejected talk of a German invasion as "clumsy fabrications," then asserted that "the rumors that Germany intends to violate the Pact and attack the Soviet Union are completely groundless, while the recent transfer of German troops, having completed their operations in the Balkans, to the eastern and northern parts of Germany must be assumed to have to do with other motives unconnected to Soviet-German relations."[8] Time and again, Stalin's words, and those of his underlings, emphasized not the reality of over three million hostile soldiers perched on the frontier, but the importance of doing nothing that might "provoke" them. To an assistant Stalin wrote, "Hitler shouldn't get the idea that all we're doing is preparing for war with him."[9] The Soviet populace, battered into taking very seriously everything their superiors told them, understood such statements to mean that war would not take place.
As Nazi forces prepared for an assault, Stalin took specific steps to make his forces vulnerable to them. On one occasion, he countermanded a military commander's orders partially to black out naval bases and airfields, and on another he refused to prepare antiaircraft guns to shoot down German reconnaissance planes overflying Soviet territory. Indeed, when some of those planes had to land, they were repaired and given a full tank of gas for their return journey; in one case, when a border unit downed a German spy plane, killing two, the Soviets apologized to Berlin for the incident and punished the soldiers involved.
So much did Stalin fear falling into a trap that for over eight hours after the German assault had begun in the early hours of 22 June, he still continued to restrict his troops' response, hoping in vain that the attacks were an unsanctioned effort by German generals to provoke war. In keeping with this fear, a military dispatch (issued about 12:30 A.M.) ordered Soviet commanders "not to give way to provocative actions of any kind which might produce major complications."[10] Similarly, the general in charge of the Baltic region gave instructions at about 2:30 A.M. that included the following phrases: "In the case of provocative action by the Germans fire not to be opened. In the event of flights by German aircraft over our territory, to make no demonstration and until such time as enemy aircraft undertake military operations, no fire to be opened on them. In the event of strong enemy forces undertaking offensive operations, to destroy them."[11] At 7:15 A.M., Stalin agreed to a directive telling the troops to attack the enemy and destroy him,[12] but even then, hoping against hope, he restricted the order to Soviet territory and admonished the soldiers not to cross the frontier line; still, in other words, he issued no declaration of war or general mobilization orders.
Only at noon did the Soviet foreign minister declare war. Soviet forces, the German chief of staff recorded in his diary, were "tactically surprised along the entire front."[13] Their unreadiness permitted the Germans to win an immense initial advantage, one that cost the Soviet Union uncounted millions of lives over the next four years.
Possible Explanations
Conspiracism contributed to Stalin's error in three main ways: by isolating him from the outside world, distracting him with nonexistent plots, and creating in him a weird faith in Hitler.
Isolation. Stalin was vulnerable to making a monumental mistake because the purges of previous years had made it impossible for anyone to stand up to him. In Stalin's mind, criticism of him amounted to a conspiracy against him. Anti-Stalin jokes were a form of terrorism, contact with foreigners amounted to espionage, and after-dinner political griping constituted a first step toward his assassination. Stalin had long seen individuals scattered across the huge Soviet expanse as a single and purposeful group who carried out the commands from distant Mexico of his now-dead archenemy Trotsky, receiving his orders via such methods as invisible ink in magazines about movie stars.
Living in morbid fear of a plot, Stalin restricted himself to the Kremlin and his country house, surrounded himself with guards and yes-men, and became disengaged from reality. As Khrushchev explained in his 1956 speech denouncing Stalin, the latter never traveled or spoke with ordinary people. "He knew the country and agriculture only from films. And these films had dressed up and beautified the existing situation in agriculture. Many films so pictured kolkhoz [collective farm] life that the tables were bending from the weight of turkeys and geese. Evidently, Stalin thought that it was actually so."[14] Stalin came to believe in the illusion he had created, becoming captive—perhaps the only one in the country—of his own dream world.
In a sense, he had no choice, for having weeded out anyone with an independent mind and accused them of conspiracies, he was left not just with sycophants who dared not express any opinion ("Yes, Comrade Stalin, of course, Comrade Stalin, you have taken a wise decision, Comrade Stalin") but with mental dwarfs who actually believed in Stalin's wisdom and farsightedness. The system he created permitted him alone to make important decisions. Those who might disagree within the ruling councils, in the media, or in the academy had learned otherwise. "Locked up in the Kremlin, the master of a world which he had created by his own selective killings and which reflected back upon him only those images he had himself ordained, steeped in his own 'genius' and fed on its outpourings, Stalin could rage away dissension and doubt."[15]
In the case of Germany, Stalin created his own dream world by deciding that Hitler, wanting to avoid a two-front war, would not attack him before May 1942. Perhaps counting too much on his own good fortune, Stalin made up his mind, and that was that. He then set about to order the world in accord with his decision. Specifically, he made himself prime minister in May 1941; also, he directed his intelligence aide to file information about German ambitions against Great Britain in the "reliable sources" dossier, whereas those about the Soviet Union were relegated to the "doubtful sources" file. Generally, the "doubtful sources" did not circulate beyond Stalin himself.
Conspiracy Theories. Building on this susceptibility, Stalin explained away the many warnings coming his way by conjuring up conspiracy theories.
The first theory was a British plot. Remembering Churchill's profoundly anti-Bolshevik sentiments from the 1920s and suspecting him of efforts to provoke a war between the two totalitarian states, Stalin rebuffed the British prime minister's many warnings. Ironically, pilfered documents from the Foreign Office confirmed this mistrust, for Whitehall had a more sanguine interpretation of Nazi intentions, and Stalin saw these as a more authentic reflection of British views than Churchill's letters to him. He suspected the prime minister of trying either to break the Nazi-Soviet non-aggression pact of 1939 or to join with Germany in a war against the Soviet Union. The May 1941 flight of Rudolf Hess to Scotland confirmed his fear of a British conspiracy to join with Hitler against Stalin. Indeed, it got to the point that "Stalin tended to see all warnings of a German attack, whatever their source, as further evidence of a British conspiracy."[16] For example, to predictions from a Soviet intelligence source in Prague of a German attack, he responded with the comment, "English provocation. Investigate! Stalin." Following Stalin's obsession with "provocation," top Soviet officials "saw provocation as an inevitable tool of the unending conspiracy by capitalist powers against the Soviet state. If the U.S.S.R. allowed itself to be provoked on issues chosen by its capitalist opponents, it played into their hands and temporarily lost control of the march of history."[17]
His second theory concerned freelancing German generals. Stalin sometimes expressed fears that the Wehrmacht leadership, in defiance of Hitler's wishes and carried away by their extraordinary string of successes between 1939 and 1941, sought to start a war with the U.S.S.R. (In fact, nearly all the generals opposed Operation Barbarossa.) When, just a few hours before the all-out German assault, a deserter informed the Soviets of what lay in store for them, Stalin rejected his warning on the grounds that the German generals had dispatched him "to provoke a conflict."[18] Even after the attack began, Stalin refused to respond with full force, thinking that "this was only a provocative action on the part of several undisciplined sections of the German army, and that our reaction might serve as a reason for the Germans to begin the war."[19]
Awe of Hitler. On signing the non-aggression accord in 1939, Stalin made two contradictory comments. To the German foreign minister he expressed pious sentiments: "The Soviet government takes the new pact very seriously. I can guarantee on my word of honor that the Soviet Union will not betray her partner."[20] To his underlings he cynically asserted that "it's all a game to see who can fool whom. I know what Hitler's up to. He thinks he's outsmarted me, but actually it's I who have tricked him."[21] It defies reason, but the first remarks describe his actions far better than the second. Stalin, in other words, displayed a unique and inexplicable trust in Hitler.
For once in his life, Stalin lived up to his word and trusted another human being; how strange that he should have chosen Hitler as the beneficiary. (The Soviet term for Hitler's assault, revealingly, came to be known as the "breach of faith," or verolomstvo). Several factors related to conspiracism help explain this choice:
One was respect. At the same time that Stalin excoriated Nazis, he learned conspiratorial tricks from them. For example, Stalin watched Hitler turn on his friends and get rid of them by accusing them of conspiracies against himself. Hitler's June 1934 killing of Ernst Röhm, the Storm Troops commander, on the false grounds that Röhm intended a coup d'état, prompted Stalin's admiration: "Some fellow that Hitler. Knows how to treat his political opponents."[22] Edvard Radzinsky, a biographer of Stalin, concludes that "After Lenin and Trotsky, Hitler was Stalin's third teacher."[23]
Second, it could be that Stalin's many years of conspiracist obsession with Trotsky, supported by a vast police and propaganda apparatus, left him psychologically unprepared for Hitler. The ruler is no less influenced by his own words than the populace—indeed, probably more so—and so turning Trotsky into the devil incarnate perhaps dulled his perception of the real devil incarnate.
Third was his willingness to divide power. Stalin's readiness to share global hegemony with Hitler apparently led him to assume that Hitler would also share power with him. That was not the case. In this sense, Hitler was one step more evil yet than Stalin; he wanted the whole world, to Stalin's accepting just half. Thinking that Hitler would split the loot led Stalin to believe that making it absolutely clear he had no intention of attacking Germany would cause Hitler to leave him alone. He seemed to believe that taking no steps to "provoke" the Germans—even not taking normal precautions to defend Soviet territory—would put Hitler's mind at ease and cause him not to attack (as though Hitler would have allowed some Soviet misbehavior to set off a war he did not intend to fight). To do otherwise would bring on the attack that Stalin so feared, before he had time to rebuild Soviet forces. Ironically, the one time Stalin did not insist on total power was the one time he nearly made a fatal mistake.
Ironically, Stalin never thought of appeasing Churchill and Roosevelt, whom he saw as avaricious and destructive; Hitler, however, he tried to fend off by acting like a lamb. Here the Soviet dictator fell into the conspiracy theorist's most catastrophic mistake: he ascribed Hitler's character to Churchill, as well as the reverse. Thus did "appearances deceive" cause Stalin to kill millions for imaginary reasons but not see a real conspiracy. A host of imagined conspiracies blinded him to the real one.[24]
---
[1] Quoted in Christopher Andrew and Oleg Gordievsky, KGB: The Inside Story of Its Foreign Operations from Lenin to Gorbachev (New York: HarperCollins, 1990), p. 145.
[2] Quoted in A. M. Nekrich, June 22, 1941, trans. by Vladimir Petrov, in Vladimir Petrov, ed. "June 22, 1941": Soviet Historians and the German Invasion (Columbia: University of South Carolina Press, 1968), p. 322. Also Shirer 848
[3] Quoted in Andrew and Gordievsky, KGB, p. 269.
[4] H. P. Willmott, The Great Crusade: A New Complete History of the Second World War (New York: Free Press, 1990), p. 144.
[5] For a revisionist thesis, that Stalin was actually planning a surprise attack on Germany but Hitler moved first, see Edvard Radzinsky, Stalin, trans. H. T. Willetts (New York: Doubleday, 1996), pp. 450-59.
[6] Quoted in John Erickson, Stalin's War with Germany, vol. 1, The Road to Stalingrad (New York: Harper & Row, 1975), pp. 104, 108.
[7] Quoted in William L. Shirer, The Rise and Fall of the Third Reich: A History of Nazi Germany (New York: Simon & Schuster, 1960), p. 842.
[8] "Must be assumed" set off widespread consternation; the "other motives unconnected to Soviet-German relations" may refer to Hitler's confidential letter of a few months earlier in which he explained the eastward movement of German troops in terms of protecting them from British air attacks. Volkogonov 399
[9] Quoted in Dmitri Volkogonov, Triyumf i Tragediya: politicheskii portret I. V. Stalina (Moscow: Novosti, 1989), ed. and trans. as Stalin: Triumph and Tragedy, by Harold Shukman (London: Weidenfeld and Nicolson, 1991), p. 396.
[10] Quoted in Erickson, The Road to Stalingrad, p. 110.
[11] Quoted in ibid., p. 111.
[12] Quoted in ibid., p. 124.
[13] Quoted in Shirer, Rise and Fall of the Third Reich, p. 852.
[14] Secret speech of February 1956, quoted in Edward Crankshaw, Khrushchev Remembers, trans. and ed. Strobe Talbott (Boston: Little, Brown, 1970), p. 610.
[15] Erickson, The Road to Stalingrad, p. 80.
[16] Andrew and Gordievsky, KGB, p. 262. This explanation of Stalin's misreading of Hitler derives from Andrew and Gordievsky, pp. 262-69.
[17] Ibid., p. 267.
[18] Quoted in Erickson, The Road to Stalingrad, p. 109.
[19] Secret speech of February 1956, quoted in Crankshaw, Khrushchev Remembers, p. 590.
[20] Quoted in Robert Leckie, Delivered from Evil: The Saga of World War II (New York: Harper & Row, 1987), p. 92.
[21] Crankshaw, Khrushchev Remembers, p. 128.
[22] Quoted in Robert C. Tucker, Stalin in Power: The Revolution from Above, 1928-1941 (New York: W. W. Norton, 1990), p. 275.
[23] Radzinsky, Stalin, p. 313.
[24] These were not, it bears noting, Stalin's only erroneous conspiracy theories about the Nazis. Earlier, he had conjured up a Nazi connection to his rivals, starting with Trotsky and including many others; then he developed a complex story about their trying to sabotage the Soviet economy. He even saw a German hand in the Red Army.
---
In an analysis of Saddam Hussein, "Deterrence Lessons From Iraq: Rationality Is Not the Only Key to Containment," Foreign Affairs, July/August 2012, pp. 87-89, historian Amatzia Baram reveals striking parallels between Saddam's refusal to accept a U.S.-led invasion in 2003 and Stalin's refusal to accept a German invasion in 1941. In both cases, supremely arrogant all-powerful leaders got caught in mental traps of their own making.
As the months passed and the Bush administration began to concentrate U.S. troops in Kuwait, the danger of a full-scale rematch, this time on Iraqi soil, became undeniable. Indeed, Iraqi intelligence provided quite good information on and analysis of the United States' buildup and likely strategy. And yet Saddam remained intransigent. He forbade his military intelligence to analyze American intentions, which were the specialty of the political leadership. It was obvious to almost everyone else on the planet that George W. Bush was determined to invade Iraq and overthrow his regime, but not to Saddam. Why not?

Because he seems to have begun to believe his own propaganda. Between 1991 and 2003, Saddam and the Iraqi media had pounded away at the theme that the Gulf War—what Saddam called the "Mother of All Battles"—had been a great Iraqi victory. There had been some military setbacks, it was admitted, but morally, the Iraqi side had won. The U.S. forces had stopped in their tracks before entering the populated areas of Iraq because they were deterred—by Iraq's WMD, by the spirit and ability of the Republican Guard, and by the heroism of the Iraqi population. In a closed-door meeting as early as March 1991, for example, Saddam told his lieutenants that although Iraq had been defeated from a technical point of view, it had not lost the war. The Prophet, too, he argued, was defeated, in the Battle of Uhud, but eventually he won his war, as would Iraq. And Saddam bestowed medals on his commanders and praised them for their heroism. All this created an atmosphere in which self-awareness and criticism became impossible.

In a March 2002 meeting, Saddam received a senior visitor who knew the United States well and had just met with American officials. The visitor warned in the most categorical way that the United States was getting ready for a massive "conspiracy" against him. Saddam responded by listing all the reasons Washington could do little against him and saying he was confident that he could handle it:
"We are confident and we are capable of defeating [the American conspiracy], and if we have to face it militarily, then we are prepared to do so. The Americans anyway as a military force are trying to avoid coming to Iraq. . . . The Americans, I think, are starting to face difficulties in Afghanistan, and . . . the Afghans are inflicting war casualties on them. . . . There will be a big problem when the American losses start mounting. . . . We are taking everyone into account militarily with different degrees. For Saudi Arabia, all the indications say that they are not interested [in attacking Iraq], and the same for the Gulf countries. Kuwait is not capable of refusing the [U.S.] plan. . . . In our assessment, the Americans will not strike, or maybe they will strike only military targets. They will not take an action to change the regime at this time, at least not for a while, because this requires considering their risks as far as the impact on [world] public opinion for attacking two Muslim countries. Bush's relationship with his people regarding the conspiracy [against Iraq] is currently excellent, . . . but what he is saying [about regime change] requires much more time, and there are indications that his popularity is starting to diminish partially. Narcissism is disastrous and can cost a man the opportunity to be wise. . . . Our relations with the Arabs are generally good. . . . Our international relations are good. Our relations with Russia are good, as well as with China."
And so it went. Saddam kept grasping at straws, and when there were no more straws to grasp, he made them up altogether: The French and the Germans would prevent the Americans from going to war. The Russians would save him. The Americans would only bomb Iraq, as they did during Operation Desert Fox, in 1998, never daring to actually invade. They could not invade until after they withdrew from Afghanistan.

As a sideline, Saddam also beseeched God to save him because God owed him one. This came out in a bizarre secret letter he wrote to God in 2002 and ordered an aide to "send" to the Almighty by burying it, together with several hairs from his mustache as a sign of deep personal commitment, in a wall of the Mother of All Battles mosque. Indeed, [Saddam's half brother Barzan al-]Tikriti complained bitterly in a mid-2002 personal diary entry that his elder brother was a changed man. Saddam, he grumbled, behaved "like a hermit sitting in a sanctuary and worshiping [God]."

In Saddam's mind, unlikely but rational elements became fused with entirely fanciful calculations, allowing him to convince himself that a U.S. assault was unlikely and that if it came, he would still survive it. And all of this allowed him to rationalize doing what he wanted to do: refuse to come clean about Iraq's WMD and still not fear the destruction of his regime.
Nov. 1, 2017 update: Stephen Kotkin's "When Stalin Faced Hitler: Who Fooled Whom?" covers this same ground but without the conspiracy theory angle; although a fine account, it suffers from this absence. Here is his penultimate paragraph:
Stalin's dealings with Hitler differed from British appeasement in that Stalin tried deterrence as well as accommodation. But Stalin's policy resembled British appeasement in that he was driven by a blinding desire to avoid war at all costs. He displayed strength of capabilities but not of will. Neither his fearsome resolve nor his supreme cunning—which had enabled him to vanquish his rivals and spiritually crush his inner circle—was in evidence in 1941. He shrank from trying to preempt Hitler militarily and failed to preempt him diplomatically.