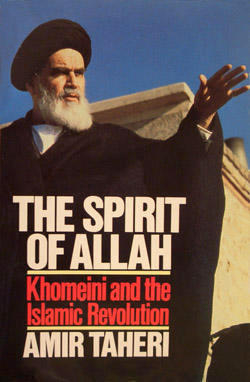 Three incidents recounted by Amir Taheri in his fascinating and informative biography, The Spirit of Allah (Adler & Adler, 349 pages, $18.95), sum up the political career of Ayatollah Ruhollah Khomeini.
In 1930, when Mr. Khomeini was 28 years old and a mullah (religious official) of only minor standing, he passed through the small Iranian town of Semnan. The fact that members of the Baha'i faith openly practice their religion there shocked Mr. Khomeini, for he viewed Baha'ism as apostasy from Islam and therefore illegal. Outraged by this impudence, Mr. Khomeini tried to organize an anti-Baha'i movement in Semnan. He got nowhere; but this incident did win him the sobriquet "Troublemaker," by which he continued to be known until he became Iran's ruler 49 years later.
The second incident occurred in 1945, when Mr. Khomeini was sent by Iran's top ayatollah to meet the shah for the first time. The shah made Mr. Khomeini wait 10 days for an audience, then arrived half an hour late for the meeting. Mr. Khomeini retaliated by sitting in the shah's presence. Scheduled for 15 minutes, the audience lasted only half that time; as one of Khomeini's companions explained, it was "hate at first sight."
The third incident took place just after Mr. Khomeini's return to Iran in 1979 as ruler of the country. One of his first orders was to censor pictures of himself smiling, on the ground that this made him look frivolous. Mr. Khomeini later explained: "An Islamic regime must be serious in every field. There are no jokes in Islam. There is no humor in Islam. There is no fun in Islam."
Anti-Baha'i, anti-shah, anti-humor, Mr. Khomeini also hates Jews, Christians and those Moslems who understand Islam as a humane, tolerant religion. He hates both the Soviet Union ("a concentration camp") and the U.S. ("a brothel on a universal scale"). He hates almost all Western imports, from ideology to music, because he sees them as destructive of Islam.
Mr. Taheri, a prominent Iranian journalist now living in exile, shows that the ayatollah had already adopted these extreme views in the 1920s and retained them, virtually unchanged, through the next six decades. As a result - and Mr. Taheri rightly emphasizes this point - the Troublemaker occupied a fringe position in Iranian politics for most of his life. Out of step with the shah's efforts at Westernization, Mr. Khomeini spent some time in jail and 15 years in exile, seemingly an anachronistic loser. As late as 1975 he had so little importance that the shah could shrug: "Khomeini? No one mentions him any more in Iran, except, perhaps, the terrorists."
But all those years on the far fringe taught Mr. Khomeini lessons that he applied brilliantly to chart his path to power from 1977 to 1979. In a perceptive passage, Mr. Taheri explains the "lead from behind" strategy that Mr. Khomeini adopted. To keep his agents - mostly mullahs - from falling into police hands, Mr. Khomeini instructed his supporters to pretend to back secular opposition leaders. Delighted with this unexpected attention, these leaders were carried away by their own importance, and quickly found themselves in jail. Meanwhile, Mr. Khomeini's followers remained free.
Leading from behind had another critical advantage. The majority of Iranians, who did not agree with Mr. Khomeini's goal of an Islamic Republic, were fooled into thinking that he and the mullahs were mere figureheads who would return to their mosques after the shah's fall. It took several years for Iranians to realize fully that the mullahs in power were determined to implement Mr. Khomeini's radical vision.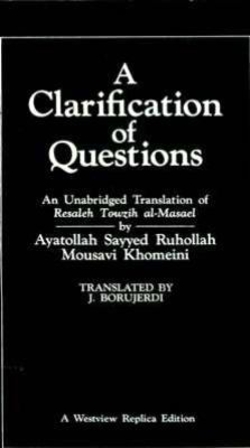 That vision is in part spelled out in a book Mr. Khomeini published in 1961 and recently translated into English by J. Borujerdi, under the title A Clarification of Questions (Westview Press, 432 pages, $32). Most of Mr. Khomeini's replies to about 3,000 questions closely resemble those given by other ayatollahs, and deal with nonpolitical questions such as purity rituals, prayers, fasts, alms and business partnerships.
But Clarification also provides direct and disturbing insight into the Iranian ruler's outlook on more sensitive issues, such as the status of women and non-Moslems. With regard to female education, Mr. Khomeini writes that a woman may continue her studies unless they necessitate that she mingle with strange men. On the matter of non-Moslems, he says it is shameful for Moslems to work under Jews. And Baha'is who refuse to renounce their religion are to be executed.
Although in his 80s, Ayatollah Khomeini remains the extremist within his radical government, the proponent of drastic reform even at the cost of massive upheaval. The situation in Iran today somewhat resembles that of China a decade ago. Mr. Khomeini, like Mao Tse-tung, is singlehandedly keeping his country in turmoil because he fears that a lull in the revolution spells the end of its achievements. Just as Mao's death brought a rapid turn toward moderation, so is it likely that Mr. Khomeini's demise will lead to a shift toward normality in Iran.