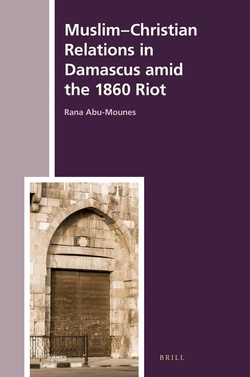 Jean-Jacques Rousseau and Karl Marx stand out as two of modern Europe's most enduringly influential thinkers; Abu-Mounes, author of this well-researched study of a major crisis in Muslim-Christian relations, perfectly exemplifies their influence.
Rousseau developed romanticism, and especially the idea of the noble savage, of the purity of life before civilization interfered and corrupted. This legend latterly transmuted into the idea that the world was a beautiful and peaceful place until Christian Europeans turned up. Today's soft visions of Al-Andalus and American Indians trace back to this outlook. When considering Syria before the Europeans, Abu-Mounes adopts this same inaccurate dreaminess: "Hitherto, the Jewish, Christian and Muslim communities who had established themselves in Damascus used to respect each other's beliefs and ways of life. Even though there were sporadic bouts of tension and suspicion between them, they generally lived peaceably together."
Marx developed the theory of historical materialism that attributes nearly all human actions to economic motives. Religion and ideology merely mask that supreme driving force. Abu-Mounes neatly reflects this outlook too: "It is perhaps easy to explain the 1860 riot of Damascus as religious fanaticism since the aggressors were mainly Muslims and the victims Christians. However, a critical study of how the rioters proceeded and of the selective nature of their choice of victims warrants a reconsideration of the underlying factors that led to the event. ... economic interests rather than religious fanaticism were the main cause for the riot of 1860. ... This work views the incident as an eruption triggered by underlying tensions and conflicts in society, such as competition for limited resources, educational opportunities, employment prospects, and political power among religious communities."
So, turn to Muslim-Christian Relations in Damascus amid the 1860 Riot for specific information about that important crisis; but be leery of the author's gauzy effort to hide its problematic background and religious nature.