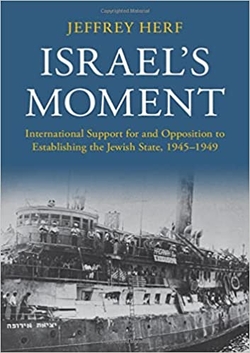 In an era when book after book by credentialed frauds flush with jargon and making spurious claims cross this reviewer's transom, Herf's study is a relief: true scholarship, with extensive research, clear prose, and sensible, convincing arguments.
A distinguished university professor in history at the University of Maryland, Herf has studied in archival detail the context in which the State of Israel was born, focusing especially on the "moment" of May 1947 to early 1949. He offers four core conclusions about this extended process, three of them simple and one complex: (1) The Soviet Union had far more importance than the United States. (2) U.S. officialdom opposed Israel with a fervency and extent not hitherto realized. (3) The Left supported the creation of Israel far more than the Right. In support of this last point, himself a liberal supporter of Israel, and therefore somewhat besieged in the university environment, Herf's delight nearly sings in chapter 3, "American Liberals and Leftists Support Zionist Aspirations, 1945-1947."
His fourth conclusion connects Israel to larger historical forces: "the passions of two eras - World War Il and the Holocaust, and the Cold War, one just past and another just beginning - shaped Israel's Moment. The controversies during this period reflected the lingering passions of the former and the new-found zeal of the latter." In other words, Israel's coming into existence served as a hinge event and as a result had outsized importance. Israel's Moment therefore goes beyond the Middle East to explore "the transition from World War II to the Cold War." Not only did remarkable and fleeting circumstances combine to enable an unlikely Zionist triumph, but those circumstances look unlikely and exotic 70-plus years later.
Indeed, Herf's account anticipates extreme reversals in policy vis-à-vis Israel; in its early years, it was the Soviet Union, France, and the United States; currently similar processes can be seen in India, the United Arab Emirates, and Sweden. For reasons idealistic and practical, he confirms how championing or resisting Israel's existence and welfare touch the very deepest nerves of international politics.