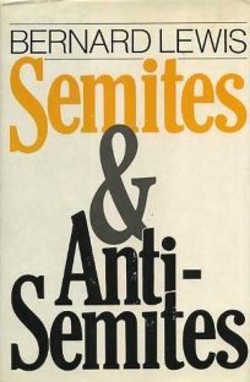 Anti-Semitism is an extremely sensitive subject, and when Bernard Lewis deals with it, he is very careful to define his terms.
By anti-Semitism, this Princeton professor of Near Eastern studies does not mean disagreement with the state policies of Israel (after all, even many Israelis quarrel with the policies of their government). Nor does he have in mind what he calls "normal" prejudice, that is, the routine suspicions and resentments that develop between members of dissimilar ethnic groups.
Anti-Semitism, as Mr. Lewis uses the term, is something distinct. He argues that the deeply felt and persistent prejudice toward Jews is unique in its profundity and staying power, with the maltreatment of blacks providing the only possible parallel. But even here a telling difference exists. While "the black hater may be as passionate in his hatred, as sadistic in his cruelty, as the Jew hater ... his purpose is to dominate and humiliate, to use and exploit, certainly not to destroy."
Mr. Lewis offers a simple thesis about the evolution of anti-Semitism. He argues that it is a specifically Christian phenomenon, a result of two special circumstances: the complex theological relationship between Christianity and Judaism, and the centuries of Jewish history in Europe, when Jews stood out as the only non-Christian people. European anti-Semitism first became a major force in medieval times, and culminated centuries later in the Nazi death camps.
In contrast, Mr. Lewis shows, there was no anti-Semitism among the Moslems. Traditional Moslem attitudes toward Jews were, rather, those of "normal" prejudice. This has nothing to do with the fact that Arabs are sometimes called Semites, for, as recent history shows, they are as capable of anti-Jewish sentiments as anyone else. Instead, it follows from the fact that Islam shares none of Christianity's preoccupation with the Jews. The author argues that the role of Jews in the classical Islamic world was noteworthy mainly for its unimportance.
Anti-Semitism entered Moslem culture only with the growth of European influence in the Middle East, a process that began 150 years ago. Along with guns, medicine, and the opera, the Moslems imported anti-Semitism, and it flourished. Perhaps the most startling part of Semites and Anti-Semites (Norton, 283 pages, $18.95) is the chapter that demonstrates the widespread admiration in the Middle East for Hitler and the Nazis. The Palestinian leader, Hajj Amin al-Husseini, met Hitler in Berlin in 1941 and later joined the Nazi effort; Egypt under Gamal Abdel Nasser turned into a major haven for Nazis; and Anwar Sadat worked closely with German agents during World War II. This admiration remains alive: As recently as 1982, the newspaper of Egypt's Liberal Party referred to Hitler as "that great man."
But it was the Arab armies' frequent military defeats at the hands of Israel that created the real need for anti-Semitism. Seeking a way to explain the Jews' unexpected success, many Arabs turned to the great body of anti-Semitic literature developed in Europe for just such purposes. The results have been spectacular: Israelis and Jews everywhere have become satanic figures in the Arabic media. These are not fringe writings, either; as Mr. Lewis observes, "Classical anti-Semitism is an essential part of Arab intellectual life at the present time-almost as much as happened in Nazi Germany." In 1970, emotions reached such a pitch that one of the world's most outstandingly anti-Semitic tracts, a document forged by the czars' secret police in the 1890s and titled the Protocols of the Elders of Zion, turned up on the best-seller list in Lebanon.
The standard themes of European anti-Semitism first appeared in Iraq and Egypt, then became prominent in Saudi Arabia, Libya and Iran. As a group, these countries "have become the main center of international anti-Semitism, from which anti-Semitic literature and other propaganda is distributed all over the world." Just as the scourge of anti-Semitism died out in its European homeland, ironically, it was reborn in the Middle East.
But there is a difference; for Moslems, anti-Semitism is a graft, something imported for specific political reasons, and not an indigenous expression of deeply held feelings. As Moslems generally wear this prejudice more lightly than their European counterparts, there is a chance it will be abandoned when its political purpose has been served. On the basis of this insight, Mr. Lewis suggests that the passions of the current conflict notwithstanding, anti-Semitism may be a transient phenomenon in the Middle East.
By handling the enormously sensitive subject of anti-Semitism with great delicacy, Mr. Lewis succeeds in doing two things. First, he brings to light an obscure but highly important aspect of the Arab-Israeli conflict. Second, he raises uncomfortable issues of prejudice and racism that most analysts of the Middle East prefer to dodge. The courage required to undertake this study is as noteworthy as the skill with which it is executed.
Mr. Pipes is director-designate of the Foreign Policy Research Institute in Philadelphia and editor of Orbis.