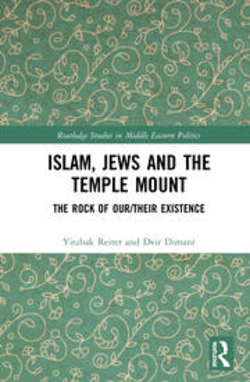 Reiter and Dimant survey over a millennium's worth of major Muslim sources – histories, geographies, literary works, Islamic texts – on the topic of the Jewish connection to the Temple Mount (Arabic: al-Haram ash-Sharif). Unsurprisingly, they find that Muslims prolifically, consistently, and uncontroversially agreed not only on the validity of that tie but on its foundational importance for the Islamic connection to al-Haram ash-Sharif. "Islam sanctifies Jerusalem and the Temple Mount Compound ... primarily because they were originally sacred to Jews and later to Christians." Accordingly, "contemporary Muslims who engage in the discourse that denies any Jewish bond to the Temple Mount or to Jerusalem are ignoring and deliberately overlooking, at times even rejecting, fundamental sources of Muslim culture."
Then they contrast that with the prevalent arguments since 1967, when Israeli troops took control of that sanctuary. Only after that date, it turns out, did the Palestinian priority to delegitimate Jewish control trump the Islamic need for legitimation. Only then did a vast heritage get dumped for the sake of tactical convenience. Only then did the Big Lie find an international audience as, for example, governments of Muslim-majority countries pressured UNESCO and other international organizations to adopt the Palestinian narrative.
Finally, Reiter and Dimant document the few recent authors who have stayed true to the Islamic truths.
The authors make these points swiftly and magisterially in their slender book, leaving no room for argument or excuse. They do so with commendable scholarly restraint, hoping to convince a Muslim audience to return to its moral and religious senses. To which this reviewer adds that the day when Palestinians abandon their core falsehood about the Temple Mount being unconnected to Judaism will mark a major step toward ending the war on Israel.