I strolled through Harvard University recently on what should have been a busy Friday morning. The solitude was striking, with once-lively routes deserted and nearly all libraries and classrooms shut, along with sports facilities, public halls and museums. Hardly any buildings, including dormitories, showed signs of life. Even scientific laboratories had only skeletal crews. It's a great time to find a parking space.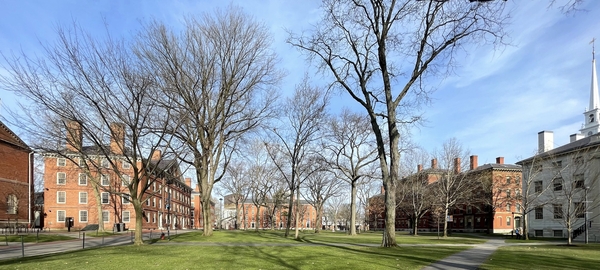 An almost empty Harvard Yard at noon on Friday. Can you find the humans?
Buildings are locked to the public. A university ID is required to enter. This reminded me of the time in 1984 when, on a lark, I tried to enter the high-rise that houses Moscow State University, only to be carded by Soviet apparatchiks and refused entry.
Nothing in my nearly seven decades' knowledge of Harvard (which started with preschool in 1952) prepared me for this lonely ramble. It prompted me to ponder the four existential challenges facing universities: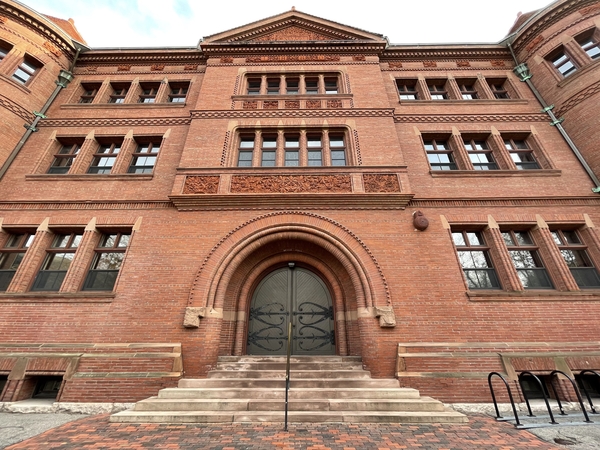 A tightly sealed Sever Hall, its classrooms inaccessible.
• The internet. The Western university dates to the founding of the University of Bologna in 1088. It remains an essentially medieval institution, with scholars educating students clustered in their immediate presence. Although "massive open online courses," cutely known as MOOCs, haven't generally taken off, a massive reliance on Zoom instruction has finally proved the internet's potential to disrupt the dominant, archaic model.
• Extreme leftism. The academy's liberalism dates back a century (to the aftermath of World War I) and its radicalism a half-century (to the 1960s). The passage of time finds the faculty ever more wildly radical in its teachings, indulging in increasingly preposterous flights of absurdity. This zealotry upsets not only conservatives; prospective students also realize the limited utility of a degree in Lesbian, Gay, Bisexual, and Transgender studies.
• Exorbitant prices. Columbia University costs $64,380 a year in tuition and fees (plus housing). Higher education has lost its role as a "lubricant" of upward social mobility, explains marketing specialist Scott Galloway, instead turning into more of a "caste system" primarily serving the privileged. University staff are "no longer public servants, but luxury goods who are drunk on exclusivity and brag about turning away 80, then 85, then 90% of applicants."
• Covid-19. The sudden focus on personal physical safety disrupted previously stable models of student recruitment, teaching, tuition, fundraising, and employment. In-person attendance will return, but long-smug institutions are scampering to find new procedures.
Harvard might seem immune to these problems, with its $50 billion in assets, the country's largest, and a college acceptance rate of 4.6%, among the country's lowest. But even Harvard—which, Mr. Galloway notes, has become a slightly absurd "$50,000 streaming platform"—faces a reckoning in the Zoom era. How might that reckoning look? Here's a prediction:
MOOCs will finally fulfill their potential. Laurie Santos, a Yale psychology professor, already attracts nearly a quarter of the Yale student body to her lectures on "The Science of Well Being," making it the most popular course in Yale's 320-year history. More important, the course that started on Saturday boasts a non-Yale audience of 3.4 million participants.

One current Yale University course has nearly 3.4 million participants.
The appearance of such huge courses at a moment when lesser institutions are failing suggests that a few star universities will flourish while the rest starve and die. Patterns in college applications imply this trend is already under way. Imagine a reduction from some 5,300 U.S. colleges and universities to 50, each with its renowned outlook (including some conservative ones), specialties and strengths. Thousands of existing campuses will become shared satellite facilities for those 50, complete with dormitories and sports facilities.
Courses like Ms. Santos's will require legions of teaching assistants and graders who meet in person with students, giving education the personal touch and community grounding essential to its mission. The California State University system, with 23 campuses, foreshadows this geographic dispersal, as does the distinction between full-time and adjunct faculty. In-person advanced seminars with star professors will continue as ever, training the next generation of scholars.
Tuition will come crashing down as economies of scale come into play, truly opening education to all and ending the student-loan crisis.
The taxi system was unreliable, expensive and unpleasant, so along came Uber and overturned it. Higher education, even more antiquated than taxis, is due for a comparable shock—and the sooner, the better.
Mr. Pipes founded Campus Watch and is president of the Middle East Forum.
---
Mar. 22, 2021 addenda: Addressing reader concerns:
1. Can the star-and-satellite system work for the sciences where laboratories are required? Yes, satellite facilities can provide those facilities.
2. Will not a reduction from 5,300 decision-making institution to 50 entail a catastrophic reduction in diversity? Not really, for those thousands offer precious little diversity at present and the few remaining universities might have more incentive to differentiate themselves.
Readers also responded with helpful information to confirm my arguments above.
1. Already in 1975, William K.S. Wang anticipated these changes in his article, "The Unbundling of Higher Education":
For many years, universities organized along traditional lines have almost totally dominated higher education. Until recently the universities' power could be justified because no other means of purveying higher education was technically feasible. Improvements in communications technology, however, have made possible the development of degree-granting programs, often called "open universities," that are no longer tied to the inflexible curriculum or expensive facilities and programs of conventional universities. It is the thesis of this Article that the current structure of the university system has retarded this development and that an antitrust attack on the monopolistic practices of private universities is feasible and should be successful.
2. The Online Master of Science in Computer Science (OMSCS) degree program at Georgia Institute of Technology's College of Computing (CoC), developed in cooperation with the online learning platform Udacity, is a MOOC that launched in January 2014. Zvi Galil, the CoC dean, explains:
While the selectivity of the on-campus Master in Computer Science program (MSCS) is slightly higher than 10%, 70.7% of the more than 26,000 OMSCS applicants were admitted. Added to the novel admissions policy, I insisted on keeping OMSCS tuition affordable—less than $7,000 for the full degree, payable by course, rather than $40,000 for a public on-campus program, or $70,000 or more in a private university. ...

the data strongly suggests there is nothing inferior about the online course experience: students regularly rate their online courses as better than on-campus courses they have taken, and they regularly match or exceed the performance of their on-campus counterparts. ...

We learned that high-quality low-cost online degrees are realizable and viable—OMSCS has been financially self-maintaining since its third year, ... and thus far has produced cumulative net income to Georgia Tech of $13 million.
3. Arizona State University has joined forces with edX to create the Global Freshman Academy, which it describes as "offering a unique, cost-effective way to break down the barriers to a quality education. GFA provides students the opportunity to complete their entire university freshman year coursework, risk free, and pay for the credit earned after passing the course. Courses are open to everyone with no application or transcripts required." GFA "offers individuals of all backgrounds the opportunity to take the same courses, from the same faculty as on-campus ASU students."
---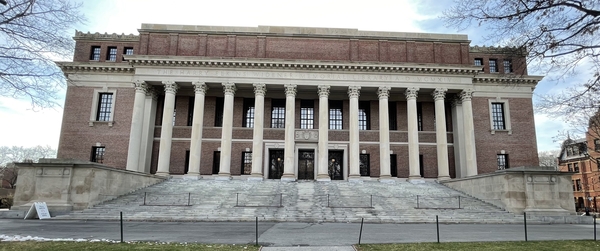 More pictures from Harvard: Widener Library is quiet.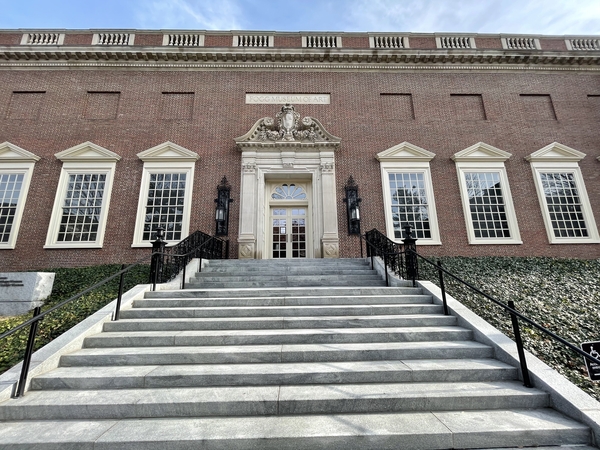 The Fogg Museum of Art is closed.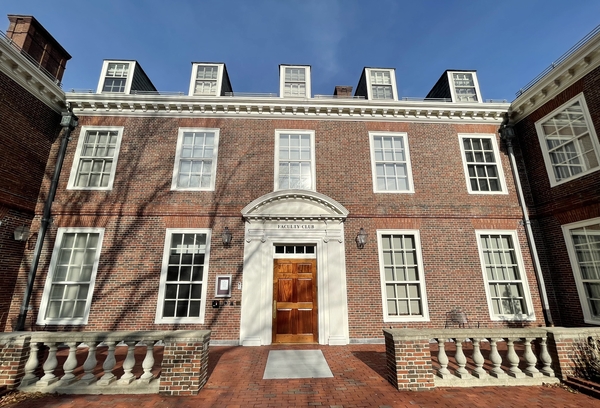 No faculty at the Faculty Club.