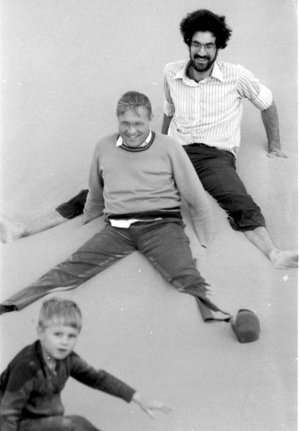 (from top) Daniel Pipes, Joseph Fletcher, and Edward Fletcher sliding down a sand dune in Kharga, Egypt, March 1976.
Joseph F. Fletcher, Jr. (1934-84) is the first close friend that I have lost to death. Other than my wife Paula, he is the one who knew me best and with whom I could share the whole range of my interests, both personal and intellectual.
We first became close when he came to Cairo, where I had already been living for 1½ years, in the spring of 1973. He often visited my apartment and we took off on expeditions to buy books of history, when I had the great pleasure to show him the marvelous world of Cairene bookstores and bookbinding. On my return to Harvard in the fall of 1973, we met irregularly to discuss our many mutual interests. He introduced me to the vast world of Inner Asian studies and I helped him find his sea legs with Arabic, the Middle East, and Islam. Our 15-year age difference disappeared.
When the time came for me to choose a Ph.D. dissertation advisor in 1974, it was natural and inevitable for me to ask Joe to serve in this capacity, which he happily accepted. We then spent a great deal of time together in Cairo during the 1976-77 academic year, again repairing to those bookstores and binders as well as more exotic trips, such as to Kharga Oasis. In addition, we both suffered from female troubles and confided in each other. Our close and frequent contact continued back home un­til I left Harvard in the fall of 1978.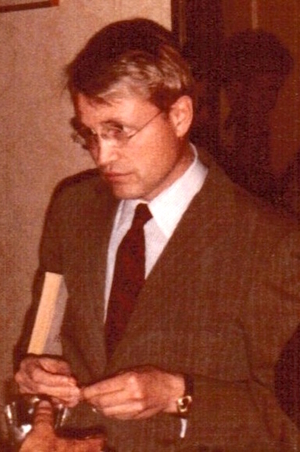 Joseph Fletcher at the Ph.D. graduation party for Daniel Pipes, June 1978.
Geographically separated, we saw less of each other, but relations remained warm and were quickly resumed each time we talked or met. In particular, I remember confiding in him in the summer of 1980 that the best woman for me was Paula; this was when I had known her only briefly; he was the first I told of my attachment to her. (Two years later, she and I married.)
Professionally, Joe's and my work diverged some­what as my career diverged to current affairs and he remained devoted to entirely scholarly pursuits; nonetheless, he continued to take an interest in my doings and I in his. I saw him almost every time I got to Cambridge and he hosted me on the unique occasion when I had no family to stay with.
I learned of his fatal illness in February 1983 when a mutual friend informed me. From that time on I tried to be around but not imposing on Joe, a difficult balance that left me guiltily feeling that I was clumsy. He retained a good spirit and a strong resolution throughout the illness.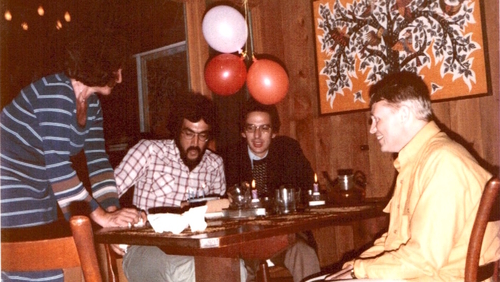 (from left) Irene and Daniel Pipes, Arthur Waldron, and Joseph Fletcher at Daniel's 30th birthday party, September 1979, in Harrisville, New Hampshire.
I last spent an afternoon with him on Oct. 7, 1983, a warm fall day when we sat in the sun on the front stoop of his house. I then spoke to him briefly on Nov. 2 and a final time, for just a few seconds, at a lunch at the Harvard Faculty Club, on Feb. 22, 1984. After that I called his secretary and got news of his steady degeneration. My grandmother, Zosia, informed me on June 14 of his death.
I shall always miss him.