Libya's ruler, Colonel Mu'ammar al-Qaddafi, has made himself the scourge of international politics from Morocco, to Chad, Egypt, Lebanon, Iran and the Philippines, meddling incessantly in the affairs of other peoples. Yet Israel occupies a unique position in his world vision; it has an importance for him that may be unmatched for any other Arab leader; and he views it with an unparalleled extremism. For example, Qaddafi briefly expelled the Palestinian organization Al-Fatah from Libya in 1979 when he considered its leader, Yasir Arafat, too lenient on Israel.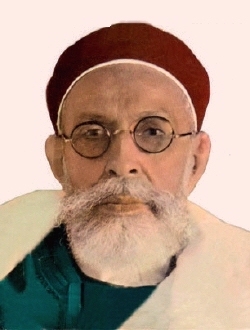 King Idris of Libya (1889-1983)
This obsession goes back to 1967 when Qaddafi was a lieutenant in the Libyan army as the devastating Arab defeat in the Six-Day War took place. The aged monarch Idris ruled Libya at that time, and he did almost nothing to help the Arab cause. Worse yet, rumors about Israel receiving American help in destroying the Egyptian air force made the presence of U.S. military bases in Libya treasonous in the eyes of radical young Libyan officers like Qaddafi. As they saw it, Idris' government had abandoned the Arab nation and Islam; for them, Israel became inextricably bound to Libya's own destiny. Zionism symbolized Western power and the humiliation resulting from Arab disunity, while the Palestinian cause represented Arab solidarity and Muslim power. As a result, since Qaddafi led the coup against King Idris in September 1969, he has made the destruction of Israel his top foreign priority.
He has followed a wide array of strategies: unify the Arabs, activate Lebanon, sabotage Sadat, use diplomacy, engage in terrorism, and influence the United States.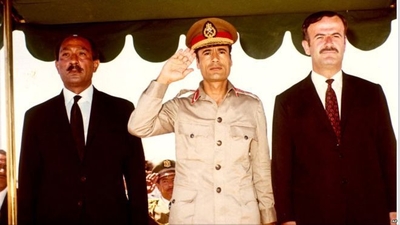 Qaddafi (L), Sadat, Assad. Not easy to work with the upstart.
During his first four years in power, the colonel tried very hard to establish a common front with Egypt and Syria. Both these countries responded warmly – hoping that close relations would bring them some of Libya's oil wealth – but every attempt at unification failed dismally upon Qaddafi making clear that he staked out the most extreme anti-Zionist position and demanded everyone else do the same. In the end, Qaddafi's obsessive hostility toward Israel alienated other leaders and Libyan money did not flow. The war in October 1973 ended talk of unification, for Qaddafi was outraged that Egypt's President Anwar al-Sadat and Syria's President Hafez al-Assad told him nothing about their plans for a surprise attack; worse yet, they then ignored his insistence that the war continue until Israel's elimination.
As Lebanon slipped into civil war in early 1975, Qaddafi helped the Muslim-leftist-Palestinian faction with his money, arms, and diplomatic offices. He hoped these forces could win control of the whole country to make Lebanon a full-fledged confrontation state against Israel. But the civil war ended in stalemate two years later and Qaddafi's hopes were dashed. The Syrian "peacekeeping" forces in Lebanon have since prevented any large-scale attacks on Israel.
Libyan strategies shifted again when Sadat visited Jerusalem in November 1977: topple Sadat and return Egypt to the Arab fold. Within days, Qaddafi organized an opposition group and reports surfaced since then of occasional Libyan efforts to eliminate Sadat (through sabotage, assassination, coup d'état). Until now these have all miscarried and Sadat continues to go his own way.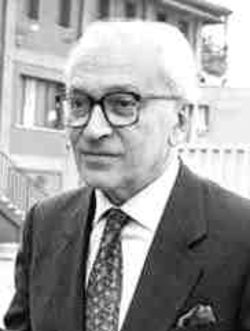 Arrigo Levi (b. 1926).
Qaddafi has used Libya's vast wealth to squeeze Israel diplomatically. As Idi Amin turned violently anti-Zionist in 1972, Qaddafi was there to encourage him with friendly words and money. Following this, many other African states yielded to Qaddafi's threats and promises of aid by breaking relations with Israel. When
La Stampa
, an Italian newspaper, published a satire of Qaddafi in 1974, he demanded the dismissal of its Jewish editor,
Arrigo Levi
, threatening otherwise to break off diplomatic relations with Italy; but Levi stayed, and Qaddafi's bluff was called.
And, of course, Qaddafi tried terrorism. Libyan diplomats probably brought the weapons to Germany used to murder eleven Israeli athletes at the Munich Olympics; Palestinians killed in this operation received state funerals in Libya and those who survived took asylum there. In May 1973, Qaddafi ordered an Egyptian submarine to attack the British liner Queen Elizabeth II as it carried Jewish passengers to Israel's 25th anniversary celebrations; Sadat, however, repudiated this order. Libyans helped finance and plan the hijacking of an Air France plane to Uganda in July 1976; enraged by the subsequent Israeli raid on Entebbe, Qaddafi offered to replace Idi Amin's MiGs the Israelis wrecked with twice as many Mirages.
Despite his recent attempt at merger with Syria, Qaddafi seems to have realized in the past year or so that neither winning diplomatic support from countries like Uganda nor killing athletes will vanquish Israel; and he lost hope that Egypt will fulfill his expectations.
He has apparently decided the time has come for a wholly new approach: cultivating Israel's main supporter, the United States. Qaddafi sees Israel as a ward of the United States; without American assistance, he believes the Jewish state would collapse. Although he still attacks the United States with ritualistic monotony (he called it "the great devil of our planet" a few weeks ago), he also seeks to win American friends with increasing attention.
Libyan financing for Black organizations and for Middle East studies has come to light, but we know most about the Idaho connection. Starting in 1977, the Libyan government placed large orders with the Idaho Farm Bureau, offered the University of Idaho educational contracts, and treated most of the state's politicians to lavish trips to Libya. In return, Libyans dropped hints about winning release of eight C-130 cargo planes they paid for but which were blocked from export by the U.S. government; they urged Idaho's politicians to press Frank Church, their senior senator and the influential chairman of the Foreign Relations Committee, to let the planes go; and they subsequently supported the pro-Libyan Republican challenger for Church's Senate seat, Representative Steve Symms.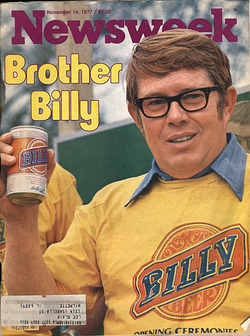 Billy Carter (1937-88).
What did Qaddafi hope to get from Billy Carter for his money? He hoped the president's brother would provide him with a voice in high places to argue against American support for Israel. Investigations will probably show that Billy Carter, Qaddafi's man in the White House, was not alone in accepting Libyan favors, but was only the most indiscreet and visible figure in a larger campaign to buy influence in the American government. More broadly, the whole American caper looks misconceived. The
Christian Science Monitor
notes that the "American friendship-building campaign [has] been flawed by poor planning, faulty execution, and naive misconceptions about the United States."
These six different ways to damage Israel have had some effect – diplomatic relations broken, property damaged, lives lost – but in the end have proven entirely futile in terms of their ultimate goal, the elimination of the Jewish state. Indeed, by any measure, the Israel of 1980 is richer, stronger, and more accepted than that of 1969.
Daniel Pipes teaches history at the University of Chicago.