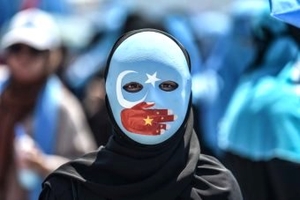 A demonstrator attends a protest of supporters of the Muslim Uighur minority and Turkish nationalists to denounce China's brutality in the deadly riot of July 2009.
Tom Switzer of the Centre for Independent Studies in Sydney interviews Daniel Pipes, president of the Middle East Forum in Philadelphia, on two main topics:
the harrowing situation of the Uyghurs in Xinjiang, China, and
the growingly worried European response to the problems of demographics, immigration, multiculturalism, and Islamization.
The studio interview lasts 28 minutes.