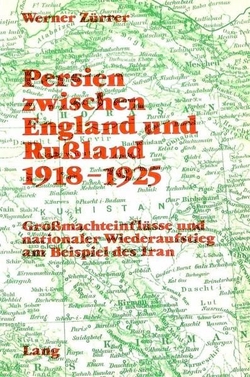 Only a handful of countries escaped European colonization in modern times, a major achievement; yet for most of these countries, continued independence meant having to play in the dangerous game of international diplomacy. In contrast to the placid political life of colonies in the early part of this century, Japan, China, Thailand, Afghanistan, Iran, Turkey, Arabia, Yemen, and Ethiopia had to maneuver between domestic pressures and the ominous presence of European powers. Most of these governments pursued traditional methods of statecraft, warfare, and economics as long as they could - until they came close to losing sovereignty. Then, by making strenuous adjustments to modern ways, they retained independence. The near collapse and subsequent rise of Japan, China, and Turkey are all well studied; Werner Ziirrer, for the first time in a European language, now tells the intricate story of Iran.
In 1921, Iran lay nearly prostrate before the ambitions of Great Britain (based in India) and Russia (expanding from Central Asia toward the Indian Ocean). The central government had lost control of several provinces; the economy was in disarray; political power was contested between the last shah of the Qajar dynasty, Parliament, and the army. Within four years, under the dynamic leadership of Reza Khan (later Reza Shah), the government of Iran reasserted itself both domestically and internationally; how this occurred is the subject of this book.
Zürrer's account divides into three parts. Part 1 discusses circumstances leading from the Bolshevik Revolution to the Anglo-Persian Agreement of August 9, 1919, the result of Iranian fears of Soviet aggression and agitation. Part 2 traces the intricate and largely hidden consequences of this agreement up to the coup d'état of Reza Shah in 1921. During these two years Iran came perilously close to losing control over its political and economic affairs. The final part, twice as long as either of the others, explains how the Iranians exploited an English and Russian standoff to reassert control over their country. Zürrer copiously documents the state of relations between Iran and the powers (including eventually also the United States). These events are presented skillfully and accurately. While he offers no major new interpretations, Zürrer does make available a great deal of information in a coherent account.
Despite Zürrer's previous work on European diplomacy (Die Nahostpolitik Frankreichs und Russlands, 1891-1898 [Wiesbaden, 1970]) and the title of this one, this is not a diplomatic history. This book deals foremost not with English and Russian maneuvers but with Iran (as the author explicitly points out, pp. 7-8, 477). Herein lies my principal objection; as a history of Iran, it is terribly flawed. The author's extensive research in the English, French, German, and American government archives and his command of the Russian materials all serve him well for the actions of Europeans but not to understand Iranians. It strikes me as remarkable that a serious history of a non- Western state can still be undertaken without knowledge of the local language. In an era of unmitigated Eurocentrism, this was acceptable; but no longer, for it builds an incomplete and distorted picture.
The picture is incomplete because European archives cannot replace the information available in Persian. Even without considering archives in Iran, vast amounts of primary source material in Persian are in print: newspapers, magazines, memoirs (especially valuable in a government where politicians treated official papers as their own), and collections of documents. Besides these, Iranians have built up a formidable body of secondary studies on this period: to mention only one, Husayn Makki's Tarikh-i Bist Salah-'i Iran (Teheran, 1323 Sh./1944-45), a massive three-volume work dealing just with the period 1921-25. Writing on Iranian history without Persian is no less outrageous than writing on French history without French.
Also, not knowing Persian is symptomatic of a wider ignorance; Zürrer has no feelings for Iran, its traditions, religion, history, ideals, or mores. His account, not surprisingly, emphasizes what he knows and comprehends - the Europeans. Iran becomes an exotic backdrop for Europeans. Zürrer has almost no understanding of the power of the Muslim religious authorities, the importance of regional allegiances, or the attitudes toward foreigners; and without a feel for these, his book exaggerates the importance of the European actors in Iran.
In sum, then: Zürrer reliably presents European and U.S. information on a key episode in Iranian history; he does not, however, provide a complete picture.
DANIEL PIPES
University of Chicago