After nearly two decades of effort, Col. Moammar Gadhafi's imperial adventure in the Sahara has crumbled. In just the first three months of 1987, Libya lost almost all the territory it had held in Chad, between $500 million and $1 billion in weapons and one-third of its 15,000 troops.
This turn of events has profound implications. In the region, Libya's defeat in Chad may lead to a collapse of the Gadhafi regime and a spectacular shift in Arab-African relations. World-wide, it should lead to a new Western approach to Third World allies as well as to a favorable reassessment of the West's military position.
Col. Gadhafi's army is not just defeated; it is humiliated - a dangerous problem for a head of state. Chances are Col. Gadhafi will not weather this defeat; the process leading to the end of his 18-year rule probably has begun. No one - not the army, the U.S.S.R., or the Libyan citizen - offers him strong support. Further, who really fears Libya anymore? If a ragtag army of Chad's desert marauders can defeat Libya's imposing forces, surely others will determine that they can cut Col. Gadhafi down to size.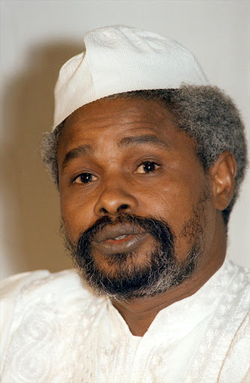 President Hissein Habre (b. 1942) of Chad.
As for Chad, in the past it has been an African Lebanon, a place where factions broke up at the moment of victory to begin new rounds of fighting. Perpetual war since 1965 led the
Economist
to call Chad a "mosaic of death." Libyan soldiers in Chad resembled the Syrian troops in Lebanon - a much more powerful outside force attempting to exploit the anarchy to gain control of the country. But the Libyan invaders stimulated the beginning of a national spirit, and Col. Gadhafi's attempts to annex Chad created a vigorous Chadian patriotism. Chadians are now united behind President Hissein Habre against Libya. Col. Gadhafi has inadvertently caused the decades-long civil war in Chad to near an end.
The loathing for Col. Gadhafi in Chad is startling and has been seen especially clearly since his recent military humiliation. President Habre describes Col. Gadhafi as "the effete megalomaniac of [the Gulf of] Sidra," while Chadian media, harking back to some painful memories, regularly depict Libyans as "slave-trading dogs." A Chadian official described some of the recent victories as "the greatest battles won by an African country against an Arab one." These terms of reference are as politically important as they are psychologically revealing.
Much of black Africa seems to share this attitude toward Libya, if not Arabs in general. As Arab oil wealth has diminished, Arab leverage over the impoverished African states has declined as well, giving free rein to long-suppressed resentments. We may therefore expect far-reaching results, including more African states resuming formal diplomatic ties with Israel. Future Libyan attempts to intimidate African states such as Mauritania, Mali, Niger and Sudan are likely to be resisted more vigorously.
A lessening of Soviet prestige among African leaders also seems likely. The abysmal performance of Soviet arms should lessen Moscow's appeal as an arms supplier, while its unwillingness to help Col. Gadhafi in his hour of need should shed doubts on Soviet reliability. The danger that Sudan, Africa's largest country, will be surrounded by a Libyan protectorate in Chad and a Soviet one in Ethiopia is now remote.
Chad's victory was the result of a mix of Western money, weapons and intelligence and Chadian courage, tactics and leadership. French air cover and troops protected the Chadian rear areas, while $50 million in equipment and weapons permitted the attack to take place. The U.S. contributed $25 million in emergency military aid in the past four months, including transport aircraft and air defense systems. These minuscule amounts of military hardware had critical importance. The State Department official who called emergency aid to Chad "the best investment we ever made" is right.
Ironically, this aid reached Chad in part because of the Iran arms deal. That more-prominent issue diverted Congress's attention from administration activities in Africa at a key moment, creating a rare opportunity for Washington to act decisively. (Chad is not the only beneficiary of American aid in the region. Since 1984 the U.S. has provided increased military support to Niger and Sudan in close cooperation with the French.)
Africans widely perceive American and French support as having played a decisive role in Chad's victory, and the effect has been to correct a widespread view of the West as slow, stingy and unreliable. This offers a small but significant counterbalance to the long record of American military failures.
The military lessons of the Sahara have wide implications. First, extremely sophisticated weapons in unsophisticated lands can be more a liability than an advantage. The Libyan army was crushed by a force substantially inferior in numbers and equipment because astute timing, knowledge of the terrain, good leadership, high morale and common sense proved more important than a vast arsenal of some of the world's finest tanks, helicopters and fighter planes.

The Chad forces displayed some remarkable tactical innovations. In a modern version of the traditional raiding party, they used Toyota all-terrain vehicles, lightly armored French-made Panhard cars, and antitank and antiaircraft missiles to play havoc with modern Soviet T-55 tanks. In effect, four-wheel-drive Toyotas defeated a fleet of tanks. Soviet, French and American weapons, designed with very different terrains in mind, have unexpected careers in a place like the Sahara. Success in such areas requires creativity, not blind acceptance of the training manual.
Second, it takes a Chadian infantryman no longer than a Frenchman to learn to handle a French-made Milan antitank weapon: one month. This points to the folly of the usual American emphasis on sophisticated technology and protracted training.
Third, Western military experts will have a field day with the captured Soviet weaponry. Such previously unavailable instruments as the SAM-13 antiaircraft missiles and missile-targeting radar systems known as "Flat Face," "Spoon Rest" and "Straight Flush" are now in Western hands. These should provide key insights into the most recent Soviet military technology, and this in turn has wide implications for NATO's position in Europe. To put it mildly, the acquisition of these Soviet arms repays the U.S. many times over for its aid to Chad.
Like Grenada, the victory in Chad is small but important. It offers another sign that a combination of will and quick action can lead to Western military success against Soviet-backed forces.
Mr. Radu is a research associate at the Foreign Policy Research Institute. Mr. Pipes directs the institute.