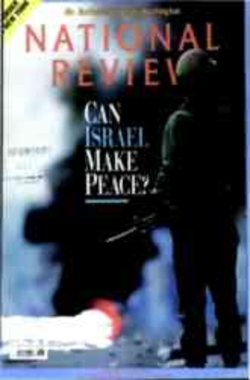 General [Abraham] Tamir combines faulty history with erroneous assumptions about Arab willingness to make peace. The result is a hopeless mélange of wishful thinking and political impetuosity.
First a little history; It is nonsense to intimate that, had it not been for the great powers. Middle Easterners would have made peace after 1974. The last 15 years have witnessed the rise of Palestinian terrorism and PLO political prominence, both widely supported by Arab states. This genuine expression of Arab rejectionism cannot be blamed on U.S. or Soviet diplomacy.
Second, General Tamir's assumptions are questionable. How does he know that the Soviets wish to resolve the conflict "for the sake of world and regional peace"? That the Syrian and Iraqi governments are part of "an Arab party ... seeking peace"? That Arabs as a whole "have a clear interest in peace with Israel"? General Tamir puts forward contentious interpretations as matters of simple fact; they are not.
Third, General Tamir's policy prescriptions are terrible. If the U.S. government abandoned its pursuit of interim agreements in favor of a comprehensive peace, as he suggests, it would thereby offer to those least interested in reconciliation a veto over the peace process.
The five principles for a peace settlement defy logic or common sense.
What does it mean to call on Middle Easterners to resemble Western Europeans? This is preposterous: Are Lebanese to emulate Norwegians? Iraqis, Belgians?
A sovereign Palestinian state in the West Bank and Gaza Strip would be inherently unstable. If it survived the predations of its Arab neighbors, the irresistible urge to expand beyond constricted borders would lead to war with Israel. That war would, I wager, leave Palestine or Israel standing, but not both.
The Jerusalem issue cannot be so easily finessed; Palestinians demand that it be their capital, not Israel's or that of some fictive "Middle East community."
Territorial compromise in the Golan Heights defies experience; and it presumes changes in Syrian attitudes that have not occurred.
It is glib to assert that industrial countries will subsidize an Arab-Israeli peace. But assume they will: since when are Arabs or Israelis willing to call off their bitter struggle for the sake of cash?
These bad ideas appear to reflect the frustration and political weakness of Israeli's Labor Party. General Tamir, you have worked so long for a real peace settlement— compel yourself to wait a little longer.
Mr. Pipes is director of the Foreign Policy Research Institute and author, most recently, of Greater Syria (Oxford University Press).