Main Topics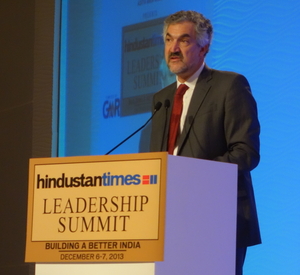 The Middle East in Upheaval: Interpreting and Predicting
The Middle East hosts three civil wars (Libya, Yemen, and Syria) and many insurgencies (Algeria, Sudan, the Sinai, Turkey, Iraq, Iran). It also features high-profile diplomacy (Israeli-Palestinian, Turkey-EU, Iran deal) and massive problems (water, demographics, Islamism and other extremisms). In a tour d'horizon, Mr Pipes offers background to some of these developments, analyze their significance, and make predictions. In brief: the Islamist surge seems stronger than ever but shows major weaknesses, anarchy advances, Kurdistan emerges, Iran is in a pre-revolutionary state, Turkey goes rogue, Egypt teeters, America recedes, and Israel stands out ever-more as a "villa in the jungle."
Europe or Eurabia: Islam and the Continent's Future
Europe stands at an unprecedented crossroads: Will the continent retain its historic civilization or become predominantly Muslim? Will Europeans quietly accept Islamic law or resist this process? Mr Pipes analyzes the main prospects and predict that within twenty years, Europeans will have fully woken up and the result will be ugly.
Israel's Paradox – Flourishing But Imperiled
Israel is a success story with few parallels, turning a barren land into a military, scientific, and cultural powerhouse – which Mr Pipes provides new, original information about. Yet its many achievements notwithstanding, the country lives under a unique barrage of threats. I reconcile and explain this paradox, ending with a policy recommendation for the U.S. government: let Israel defeat the Palestinians.
Israel Needs to Win
Nearly 30 years of failed "peace process" suggests the need for an entirely new paradigm to solve the Palestinian-Israeli conflict. Mr Pipes notes that through history, wars end when one side gives up its goals. This should be the U.S. approach to the Palestinians.
Other Topics
Does a "War on Terror" Still Exist?
Yes, it exists, at least if understood as a war on radical Islam, not on terrorism. Radical Islam is the great ideological challenge of our time, akin to fascism and communism in their day. The West must defeat this movement and help Muslims replace it with a moderate form of Islam.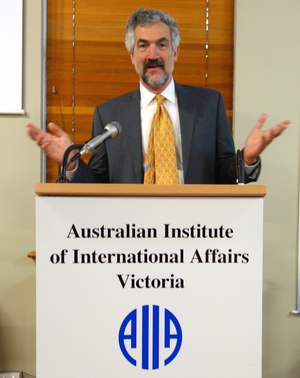 Islam vs Islamism
What is the enemy, the ancient religion of Islam or the modern political movement known as Islamism? Mr Pipes argues that radical Islam is the problem and moderate Islam the solution..
Lawful Islamism – A Greater Threat than Terrorism
Putting on the mantle of a strategist for radical Islam, Mr Pipes argues that "soft jihad" or "creeping Shari'a" has greater chances of success than criminality and violence. It can best attain the goal of imposing the Shari'a (Islamic law) by focusing efforts on working legitimately within the system as opposed to engaging in violence. That includes: influencing the political, legal, journalistic, academic arenas, engaging in da'wa (conversion) efforts, and (in Western countries) urging laxer immigration procedures.
Muslim Antisemitism
Mr Pipes shows that the main locus of antisemitism has moved from the Christian to the Muslim world and consider some consequences of this fact. In some countries (e.g., South Africa, France), Muslim antisemitism imperils Jewish life; in others (United Kingdom, Australia), it puts Jews on the defensive; for Israel, it threatens to continue the existential conflict; and in the United States, it is ending the Golden Age of American Jewish life. Mr Pipes draws some operational conclusions for American Jews, in particular the need to establish new alliances.
Provocations
A series of conversation starters: (1) Iraq & Afghanistan show few and diminishing traces of the vast U.S. effort in those countries. (2) The Arab-Israeli conflict will end only when one side gives up. (3) Turkey is heading to be the most dangerous Muslim country and Iran the most friendly one. (4) Islamism is fracturing before our eyes. (5) Syria and Iraq will not be whole again. (6) Sisi of Egypt is in way over his head. (7) Europeans will wake up to the illegal migrant crisis from the Middle East but too late and too violently.
February 2019