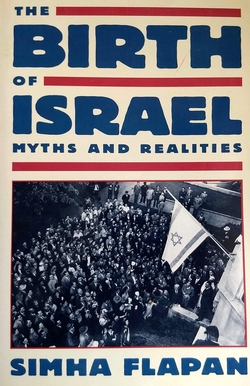 Poor Israel; it must be 
the only state other than the United States where some of the most talented citizens devote their life's work to bashing their own government. Flapan, a left-wing Israeli activist, has done serious work
 researching Arab-Israeli relations between 1948 and 1952 but his
 strident political agenda turns the work into an anti-Israel diatribe.
Flapan seeks to refute seven "myths": that Zionists accepted
the U.N. partition and planned for peace; that Arabs rejected the
partition and launched war; that Palestinians fled voluntarily, intending reconquest; that all the Arab states united to expel the Jews from Palestine; that the Arab invasion made war inevitable; that defenseless Israel faced destruction by the Arab Goliath; and that Israel has always sought peace, but no Arab leader has responded. According to Flappan, the Arab states did not intend to destroy Israel but only tried to stop King Abdallah of Jordan's Greater Syria plan; because the Zionist leaders seemed to tolerate that plan, the Arabs attacked the nascent Israeli state.
This contention flies in the face of many facts. To take just one: Flapan asserts that London regarded Abdallah's Greater Syria plan "as the perfect vehicle for its strategic interests." But Yehoshua Porath has conclusively proved from the British archives (In Search of Arab Unity, 1986) that the British did not support the Greater Syria scheme. This destroys Flappan's central thesis that "Arab fears of Abdallah's ambitions eclipsed their concern over a Jewish state," for Arab leaders had no reason to fear Abdallah on his own.