I recently argued at "The US-Israel Honeymoon May Not Last," that Trump has some unpleasant surprises in store for the Israelis. This blog updates and attempts to flesh out what his Palestinian-Israeli plan will be.
---
In an interview with Israel Hayom's Boaz Bismut, Trump fleshed out some of his comments quoted above, with key passages underlined:
Q: What was the highlight of your first year, what was the highest point?

A: I think Jerusalem was a very big point. And I think it was a very important point. The capital, having Jerusalem be your great capital was a very important thing to a lot of people. I have been thanked and, in some cases, not thanked, to be 100% honest about it. But it was a very important pledge that I made, and I fulfilled my pledge.

Q: I think the entire nation of Israel says one big thank you, sir. Was the decision on Jerusalem one of your goals for your first year in office?

A: That's right. I said that I would like to be able to do it in the first year. I can understand why many other presidents bailed on their promise, because tremendous pressure was put on them not to do it. The other presidents, all of them have failed in the promise even though they made it as a campaign promise, but I understand it because I will tell you, the lobbying against it was tremendous.

Q: What did you mean when you said recently in Davos that Jerusalem was off the table because of your decision?

A: By taking Jerusalem off the table I wanted to make it clear that Jerusalem is the capital of Israel and as for specific boundaries, I would support what both sides agreed to.

Q: Will Israel have to give something in return for the decision on Jerusalem?

A: I think both sides will have to make hard compromises to reach a peace agreement.

Q: Obviously there is suspense in Israel about the imminent peace plan. When will the U.S. unveil its peace plan?

A: We are going to see what goes on. Right now, I would say the Palestinians are not looking to make peace, they are not looking to make peace. And I am not necessarily sure that Israel is looking to make peace. So, we are just going to have to see what happens.

Q: Will settlements be part of the plan?

A: We will be talking about settlements. The settlements are something that very much complicates and always have complicated making peace, so I think Israel has to be very careful with the settlements. ...

Q: I'm guessing that Egypt and Cairo are supposed to play a key role in the peace plan. Are they willing to play that role?

A: I think they will, I mean at the right time. I am right now interested in the Palestinians and Israel. I don't know frankly if we are going to even have talks, we will see what happens, but I think it is very foolish for the Palestinians and I also think it would be very foolish for the Israelis if they don't make a deal. It's our only opportunity and it will never happen after this. ...

Q: What are your thoughts about U.S.-Israel relations right now?

A: I think they are great. I think Bibi [the popular nickname for Israeli Prime Minister Benjamin] Netanyahu is a terrific person, a terrific leader, I think the relationships are good, but I think they will be a lot better if they ever get to making a peace deal.
In summary, Trump reiterated prior warning about "hard compromises" ahead for Israel, giving warnings about Israeli towns on the West Bank, and saying that relations with Israel will improve after reaching an agreement with the Palestinians. Perhaps most significantly, he expressed doubts about Israelis even wanting peace.
Comments: Taken as a whole, these comments confirm my prediction that U.S.-Israel relations could go seriously awry with Trump as president. (February 11, 2018)
Feb. 21, 2018 update: Khaled Abu Toameh notes that Abbas, in his speech to the U.N. Security Council, toned down his hostility toward both the U.S. and Israeli governments. Abu Toameh interprets this as a wish to stay relevant; I interpret it as a small step toward fixing relations with the Trump administration.
Feb. 28, 2018 update: Trump plan leaks from "knowledgeable Arab diplomatic sources" quoted in Asharq al-Awsat and reported by Khaled Abu Toameh in the Times of Israel:
U.S. recognition of a Palestinian state with East Jerusalem as its capital,
Place the Old City of Jerusalem under "international protection."
Palestinians give up their demand for a "right of return."
Large Jewish towns on the West Bank to remain in place, small settlements to be "relocated."
Expand the PA's security and administrative authorities in areas A and B of the West Bank.
$40 billion to be given to the Palestinian Authority to help establish a Palestinian state and its government institutions.
An international conference to be held in one of the Arab capitals, most likely Cairo, with Israelis in attendance.
Mar. 2, 2018 update: Palestinian Authority negotiator Saeb Erekat has released a very different Trump plan, one far more favorable to Israel, again reported by Khaled Abu Toameh:
Recognition of Jerusalem as Israel's capital and moving the US embassy to the city. (This, according to Erekat, would mean accepting the annexation of East Jerusalem to Israel.)
The Trump administration would "invent" a capital for a Palestinian state in the suburbs of Jerusalem (outside the current municipal boundaries of the city).
The Trump administration would announce within a period of two-three months its recognition of the annexation of settlement blocs. Trump, according to the report, is proposing the annexation of 10 percent of the West Bank, while Prime Minister Binjamin Netanyahu wants to annex 15%.
The Trump administration would then announce a joint security concept for Israel and the Palestinian state as peace partners. The concept would include the establishment of a demilitarized Palestinian state with a strong police force; bilateral, regional and international security collaboration with the participation of Jordan, Egypt and the US, while leaving the door open for other countries to join in; the presence of Israeli forces along the Jordan River and "central hills" in the West Bank to protect the two states; and giving Israel overriding security responsibility for emergency cases.
An Israeli withdrawal and gradual redeployment outside Areas A (currently under full Palestinian control) and B (currently under joint control) of the West Bank, while handing over control of new territories from Area C (currently under Israeli control) to Palestinians, based on the performance of the PA (no timetable set), after which a Palestinian state would be announced within these borders.
The world would recognize Israel as the homeland of the Jewish people.
The world would recognize the Palestinian state as the homeland of the Palestinian people.
Israel would guarantee freedom of worship to all religious sites by maintaining the status quo.
Parts of the Ashdod and Haifa ports and Ben Gurion Airport would be allocated for Palestinian use, while security responsibility would remain in the hands of Israel.
Palestinians would have presence at international border crossings, while overriding security responsibility will remain in Israel's hands.
Territorial waters, airspace and electromagnetic waves will remain under Israeli control, without prejudicing the needs of the Palestinian state.
A safe passageway would be opened between the West Bank and Gaza Strip under Israeli sovereignty.
A just solution would be found for the issue of the refugees in the context of the future Palestinian state.
Mar. 9, 2018 update: More from Khaled Abu Toameh, this time reporting on an article in the Egyptian newspaper Al-Shorouk:
The Americans, according to the report, have notified some Arab capitals that Trump's decision to move the US embassy from Tel Aviv to Jerusalem was "part of an American effort to persuade Israel, especially the hardliners, to agree to possible concessions to the Palestinians."
Mar. 25, 2018 update: Writing in Al-Monitor, Uri Savir has another Trump plan leak to offer, from "a senior US diplomat in Tel Aviv". He characterizes it as a "two-state solution ... that Netanyahu could accept" and "much closer to Israel's positions than to the Palestinian positions."
Palestinian East Jerusalem neighborhoods will be part of the Palestinian state, but not the Old City, except for religious jurisdiction on the mosques together with Jordan.
It would be proposed that the Palestinians adopt East Jerusalem neighborhood Abu Dis as their capital.
The Palestinian state will have limited sovereignty on limited territory (about half of the West Bank and all of the Gaza Strip), with Israel responsible for security for much of the West Bank and the border passages.
The Jordan Valley will be under Israeli jurisdiction with an Israeli military presence.
Gaza will be part of the Palestinian state provided that Hamas is disarmed.
There will be no right of return to sovereign Israel for Palestinian refugees. A compensation mechanism for refugees will be established by the international community.
The US plan demands that Israel be recognized as the homeland of the Jewish people and Palestine, with limited sovereignty, as the homeland for Palestinians.
The White House plans to offer the Palestinians a very significant economic assistance package. This package would engage the United States, the European Union and Saudi Arabia.
Regional anti-terror cooperation as well as regional normalization with Israel will take place, according to the 2002 Arab Peace Initiative.
On the basis of this plan, the parties will negotiate a detailed agreement, to be reached by 2021.
May 4, 2018 update: Another leak, this time from the office of Israel's Minister of Defense Avigdor Liberman after his visit to Washington:
The Trump administration will ask Israel to withdraw from four Arab neighborhoods in east Jerusalem, which will likely become the capital of a future Palestinian state. ... The transfer of control over the neighborhoods – Jebl Mukabar, Isawiya, Shuafat and Abu Dis – was presented to Liberman as just one piece of the larger peace plan the administration has been working on over the last year. Israel, the officials indicated, would be expected to accept the plan once it is presented despite the potentially painful concessions. ... US officials categorically denied the report
Comment: Unstated here but implicit to Jerusalem becoming its capital is that the U.S. government will recognize "Palestine."
May 5, 2018 update: Without going into details, Liberman himself has confirmed the general point I am making here, that the Palestinians have a major gift awaiting them. In his words, "There is no free lunch," "There will be a price for the national ambition and the realization of a vision. There will be a price for the opening of the US Embassy in Jerusalem and it is worth paying it" because the embassy relocation "is important, historic and dramatic."
May 15, 2018 update: I published a follow-on analysis on this topic today at National Review Online: "Enjoy the Jerusalem Embassy – But Don't Get Giddy."
May 27, 2018 update: I replied to Jonathan Tobin's sanguine analysis of this topic at "Israel Has Nothing to Fear from Trump's Plan?"
June 18, 2018 update: Adam Entous' article "Donald Trump's New World Order," contains two pieces of information that boost the idea of Trump making major demands of the Israelis.
(1) Trump appeared in December 2015 at a Republican Jewish Coalition event, at which its director, Matt Brooks,
asked Trump how he would approach negotiations between the Israelis and the Palestinians. Trump cast himself as a neutral party, interested in getting the Israelis and the Palestinians what they needed to end the conflict. "People are going to have to make sacrifices, one way or the other," he said.
(2) In his last telephone conversation with Mahmoud Abbas before the latter cut off relations, in December 2017,
Trump told Abbas that he was keeping his campaign promise to move the Embassy. Trump then launched into an impromptu monologue. One former aide described it as "heartfelt." Trump told Abbas that he was committed to getting the Palestinians the best possible deal and that Israel would make real concessions that he would be happy with if he stayed engaged. He added that Abbas would get a "better" deal under his Administration than under Obama's, a line he repeated more than once.
Aug. 22, 2018 update: At a rally in West Virginia, Trump spoke over and over again about his having "taken Jerusalem off the table," then (at 1:11: into his talk) turned to what comes next. First, about the Israelis: "In the negotiation, Israel will have to pay a higher price because they won a very big thing." Next about the Palestinians: "They'll get something very good, because it's their turn next."
The Palestinian Authority immediately responded by laying its terms. Majdi al-Khaldi, an adviser to Mahmoud Abbas said that "The American administration made a major mistake when it recognized Jerusalem as Israel's capital and moved its embassy there. There is no compensation the administration could offer for those moves other than recognizing the State of Palestine with East Jerusalem as its capital and clearly defining the two-state solution as the sole solution."
Comment: Since December, Trump's allusions to rewarding the Palestinians have been mostly ignored; this one, however, did get some attention.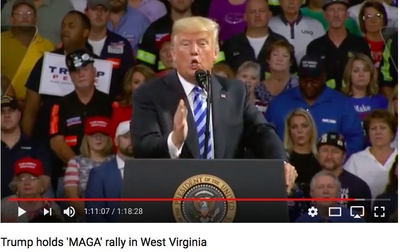 Trump warns the Israelis that they will "pay a higher price" in negotiations with the Palestinians.
Aug. 29, 2018 update: On a conference call with the American Jewish Congress, U.S. Ambassador to Israel David Friedman explained away Trump's "higher price" comment this way:
The president feels that if the parties are lucky enough to be sitting in a room and making progress, he might say to the Israelis, "Look, can you do a little bit more? Look what we did for you. Is there's something more that you could do?" It's not that he has something specific in mind, but just that under the circumstances, that the United States has engaged in really significant good-faith efforts to strengthen Israel and strengthen its historical multi-thousand-year connection to Jerusalem, maybe the Israelis could make it clear by leaning in a little bit as well. That's all it meant. ... There is not and there never was any demand made of Israel that they do anything in exchange for the embassy move.
Comment: I hope he's right, but I am not at all convinced.
Sep. 2, 2018 update: Moving the diplomacy in a very different direction, Mahmoud Abbas reported about his talks with the Americans: "I was asked if I believe in a [Palestinian] federation with Jordan." He then quoted himself replying, " Yes, I want a confederation with Jordan and Israel. I have asked the Israelis if they would agree to such an offer."
Sep. 13, 2018 update: Jason Greenblatt stated: "We're going to have to defend the plan to Israelis and Palestinians. We are ready for criticism from all sides, but we believe this is the best path forward for everyone."