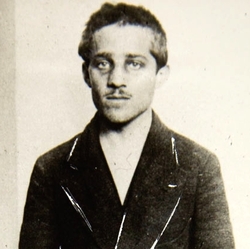 Gavrilo Princip.
A hundred years ago today, June 28, 1914, was arguably the worst day in human history. Not that anything so awful happened during those 24 hours, but the assassination in Sarajevo of the heir to the Hapsburg throne by a 19-year-old Bosnian Serb nationalist, Gavrilo Princip, initiated a series of events that led to not just the horrors of World War I but arguably also those of World War II as well as the rise to power of the fascist and communist movements.
In brief, that vicious era that historians have dubbed the short twentieth century, 1914-89, with its unprecedented numbers of deaths, of extremist movements, and of general human misery began with the shots that festive summer day. (June 28, 2014)
Related Topics: History receive the latest by email: subscribe to daniel pipes' free mailing list This text may be reposted or forwarded so long as it is presented as an integral whole with complete and accurate information provided about its author, date, place of publication, and original URL.