It's a handy rule-of-thumb that when a politician – usually in a press conference, where he's annoyed repeatedly with the same question about his judgment – announces that he is or is not something, well, he is that thing.
"I'm not a crook": Richard Nixon set the gold standard in 1973 with this announcement, which the Watergate affair showed he exactly was.
"I am not an ideologue": Barack Obama in January 2010, denying what he exactly is.
"I'm not the emperor of the United States": Barack Obama in February 2013, suggesting what he would really like to be.
Recent examples of this phenomenon have come tumbling in hard and fast:
"I don't think we're stupid": U.S. Secretary of State John Kerry, discussing the P5+1's very stupid Joint Plan of Action with Iran in November 2013, and referring to the Obama administration as a whole.
"I am not a bully": New Jersey's Governor Chris Christie, responding on Jan. 9 to revelations that his staff had used arch-bullying tactics.
"Je suis social-démocrate" ("I am a social democrat"): President François Hollande on Jan. 14, precisely as he announced a series of anti-socialist spending and tax cuts.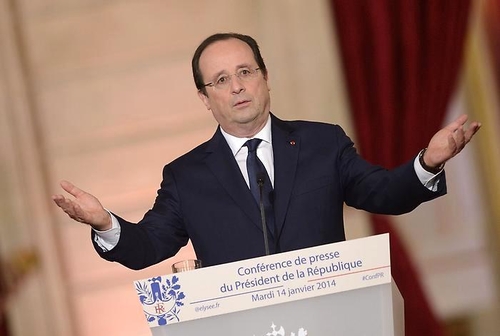 French president François Hollande at his annual press conference.
(January 16, 2014)
"I don't really even need George Kennan right now": Barack Obama discussing his flawed and failed grand strategy which is very much in need of help. (January 27, 2014)

"I'm not a bully" announced Donald Trump, the leading Republican presidential candidate, when that term precisely describes who he is. (August 26, 2015)
Related Topics: US politics
Related Articles:
receive the latest by email: subscribe to daniel pipes' free mailing list
This text may be reposted or forwarded so long as it is presented as an integral whole with complete and accurate information provided about its author, date, place of publication, and original URL.