Offered on the occasion of the "first free" elections in Tunisia:
If you know the result ahead of time, you are voting for the real powerbroker. If you don't know the result in advance, then you are voting for a position that hardly matters.
(October 23, 2011)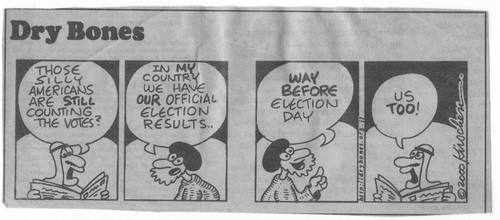 Dry Bones from the year 2000.
May 23, 2012 update: In the swirl of unpredictability as Egyptians vote today for what is billed as their "first free election in 5,000 years," reiterate my point above, that the more uncertain the outcome, the less powerful the position really is.
Related Topics: Democracy and Islam, Middle East patterns
Related Articles:
receive the latest by email: subscribe to daniel pipes' free mailing list
This text may be reposted or forwarded so long as it is presented as an integral whole with complete and accurate information provided about its author, date, place of publication, and original URL.