Note the pattern of Palestinians murdering the foreign groupies and apologists who join them to aid in their dream of eliminating Israel.
Additionally, verbal and physical abuse of women, including rape, emerged as an "ongoing and widespread" problem whenever Israeli and foreign females volunteer in the West Bank, as was revealed in mid-2010 in a series of articles in Ha'aretz, News1.co.il, and Zionism-Israel.com.
(Readers are invited to send in further examples that I may have missed; and this list will be updated as needed.)
Comments: (1) These murders neatly sum up the frenzy and depravity within Palestinian society, surely the sickest on earth, what with its suicide factory, its celebration of terrorists, and its cult of death. (2) Consistent with this morbidity, it also devours its admirers. (April 15, 2011)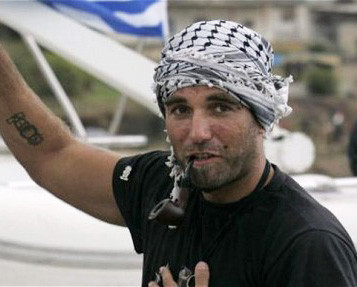 Vittorio Arrigoni, an Italian would-be Palestinian.
Apr. 16, 2011 update: The New York Times story on the assassination of Arrigoni, by Fares Akram & Isabel Kershner and datelined Gaza, wrongly states that he "appears to be the first pro-Palestinian activist in memory to have been killed here by Palestinians."
Apr. 15, 2012 update: The "Elder of Ziyon" blog notes that "the Fatah-leaning Palestine Press Agency and the independent Ma'an News Agency are reporting today that the group that killed Arrigoni was 'working for the occupation'," i.e., for Israel. Comment: Can the Palestinians not be honest about anything?
Christopher Stevens, the U.S. ambassador to Israel and previously a political officer at the US consulate in Jerusalem, killed in September 2012 by Libyans (not Palestinians) and much mourned by the PLO for his sympathy to them.
Sep. 17, 2012 update: A Hamas court found four men guilty of Arrigoni's murder and imposed very slight sentences - two of 35 years, one of 10, one of 1 - suggesting that Hamas does not find his death all that disturbing.
Feb. 19, 2013 update: The Los Angeles Times reports that a Hamas court reduced the life sentences of two of Italian Arrigoni's killers to 15 years, Mahmoud Salfiti and Tamer Husasna. That does not quite jibe with the ABC News report cited above from Sep. 17, 2012, but it confirms the general point: Hamas is not too upset about the murder of its Italian groupie.
Chris Stone, associate professor of Arabic and head of the Arabic Program at City University in New York as well as the Center for Arabic Study Abroad (CASA), stabbed in the neck (presumably by an Egyptian) near the U.S. Embassy in Cairo on May 2013.
Related Topics: Palestinians receive the latest by email: subscribe to daniel pipes' free mailing list This text may be reposted or forwarded so long as it is presented as an integral whole with complete and accurate information provided about its author, date, place of publication, and original URL.