A pattern exists in which Palestinians attack and even murder the foreign groupies and apologists who join them in their dream of eliminating Israel, or at least of building an independent Palestinian state.
In addition to the specific examples that follow, verbal and physical abuse of women, including rape, has emerged as an "ongoing and widespread" problem whenever Israeli and foreign females volunteer in the West Bank, as revealed in a mid-2010 series of articles in Ha'aretz, News1.co.il, and Zionism-Israel.com.
Comments: (1) These murders neatly sum up the frenzy and depravity within Palestinian society, surely the sickest on earth, what with its suicide factory, its celebration of terrorists, and its cult of death. (2) Consistent with this morbidity, it also devours its admirers.
For a complementary weblog entry, dealing with the same topic but concerning non-Palestinians in the region, see my "Middle East Extremists Attack Their Supporters." (April 15, 2011)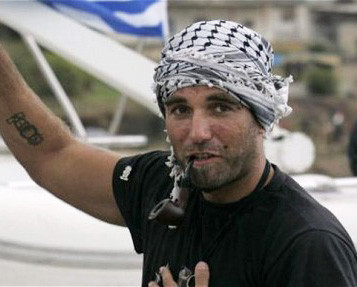 Vittorio Arrigoni, an Italian would-be Palestinian.
The tattoo on Arrigoni's arm says "Resistance" in Arabic, the war-slogan of the Iranian regime.
Related Topics: Palestinians receive the latest by email: subscribe to daniel pipes' free mailing list This text may be reposted or forwarded so long as it is presented as an integral whole with complete and accurate information provided about its author, date, place of publication, and original URL.