In an article today ("Small Budget Cuts Add Up"), Reps. Jason Chaffetz (Republican of Utah) and Anthony Weiner (Democrat of New York) call the U.S. Institute of Peace a "case study in how government waste thrives" and calls its $54 million in public funding in 2011 a "misuse of taxpayer money." To which I respond: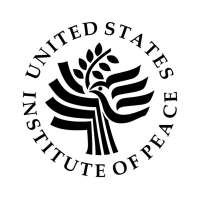 The USIP logo.
As a former board member of the U.S. Institute of Peace, I enthusiastically endorse the Chaffetz-Weiner initiative to defund the USIP. I became aware during my tenure on the board, 2003-05, that the organization performs little worthwhile service to the taxpayer but rather that it
forwards a political agenda
. Americans who wish to fund such an organization are free to do so, but it should not be a public burden. (February 16, 2011)
Feb. 19, 2011 update: Bravo to the House for cutting off all funding to USIP.
Feb. 24, 2011 update: Al Kamen reviews the bidding at "U.S. Institute of Peace loses all federal funds under House spending plan."
Related Topics: USIP
Related Articles:
receive the latest by email: subscribe to daniel pipes' free mailing list
This text may be reposted or forwarded so long as it is presented as an integral whole with complete and accurate information provided about its author, date, place of publication, and original URL.