The Maldives are a tiny island country of under 400,000 citizens, every one of them by law a Muslim, that has simultaneously become a place of Islamist repression and high-end tourism. The profoundly incompatible nature of these developments came dramatically to light recently in the course of a marriage renewal ceremony held as the posh Vilu Reef Beach & Spa Resort, which takes up the entire expanse of Meedhuffushi Island in South Nilandhe Atoll.
A Swiss couple paid US$1,300 for a "Sunset Wedding." Here's the description:
Say 'I Do' All Over Again

Renew your love and commitment for each other thousands of miles away from home and the crowds, in an intimate and romantic setting out in the nature. Make your second time around yet your best at the idyllic tropical paradise of Vilu Reef with its awe-inspiring lush sceneries and exquisite ambiance of pure natural beauty.

Imagine the two of you on the powdery beach with the sound of the waves lapping the shore and rustling of the palms to the cool ocean breeze in a traditional Maldivian wedding setup against a breathtaking and magical sunset backdrop. The perfect way to say 'I Do'… all over again for that spiritual and memorable reunion of you two.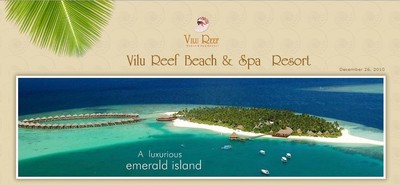 The climax of the three-day event is a 15-minute ceremony during which "The Master of Ceremonies begins the wedding ceremony by reciting the wedding vows." This involves a hotel employee solemnly reading an Islamic blessing in the local Dhivehi language from an official-looking document.
Trouble was, the M.C., identified as Hussein Didi, had a good laugh at the expense of this particular Swiss couple, as an amateur video taken by hotel employees and posted on the internet with English translation makes evident. As the couple held up their hands in a kind of prayer, unaware of the joke underway, the staffer intoned:
You are swine. The children that you bear from this marriage will all be bastard swine. Your marriage is not a valid one. You are not the kind of people who can have a valid marriage. One of you is an infidel. The other, too, is an infidel and, we have reason to believe, an atheist, who does not even believe in an infidel religion. … You fornicate and make a lot of children. You drink and you eat pork. Most of the children that you have are marked with spots and blemishes
Didi also insulted the man's penis and called the couple some very foul names.
Other staff members taking part in the ceremony maintained a serious demeanor, though one sniggered. The document at hand was nothing but a list of Vilu Reef employment regulations. The staff can be heard debating whether or not the Swiss woman is wearing a bra. "Don't look at the breasts!" one orders as the bride bends over during another part of the ceremony, planting a coconut palm.
The video has caused uproar in the Maldives, where tourism provides more than half of the foreign currency. The president and foreign minister both offered groveling apologies and assurances that the incident would not be repeated.
Comment: Guileless, soft, clueless, starry-eyed, romantic Western tourists unaware of resentment, hate, insults, and supremacism directed at them by Muslim locals; it's a old, sour, pungent story but not one often caught on film and exposed to the wide world.
Here is the response of an Egyptian on hearing about this Maldive story:
I cannot count the number of times I have witnessed something along these lines when Westerners stay at a luxury hotel, stop a cab, shop, or just walk down the street in Cairo. Recently at an elegant restaurant, I saw an American guy trying to make conversation with the bar man, to which the Egyptian bartender smiled at him and told him in Arabic, "Go to hell, you son of a bitch." Muslims have a rich vocabulary for those they call khawagas (Westerners) such as sharmuta (whore), bitch, slut, fag, and worse. But as they display no hostility in their demeanor, foreigners who do not understand Arabic have no clue what is happening. .
(October 29, 2010)
Related Topics: Islam, South Asia
Related Articles:
receive the latest by email: subscribe to daniel pipes' free mailing list
This text may be reposted or forwarded so long as it is presented as an integral whole with complete and accurate information provided about its author, date, place of publication, and original URL.