What would have happened had Muslims won the battle of Poitiers (and it was a very close thing) in France in 733? Probably not much – a bit more plunder for them but no lasting consequences. But Edward Gibbon (1737-1794) saw that battle as a key turning point in European history. Here is his renowned counterfactual passage from The Decline and Fall of the Roman Empire (1776-78): Had the Muslims won at Poitiers,
the Arabian fleet might have sailed without a naval combat into the mouth of the Thames. Perhaps the interpretation of the Koran would now be taught in the schools of Oxford, and her pulpits might demonstrate to a circumcised people the sanctity and truth of the revelation of Mahomet.
Thanks to Gibbon, the notion of the Koran being taught in Oxford and her pulpits demonstrating its truths has reverberated among English speakers for over two centuries.
In that light, it is probably not entirely a coincidence that the Saudi monarchy picked the medieval university town of Oxford to situate its most ambitious educational effort in the United Kingdom. The Oxford Centre for Islamic Studies (OCIS), founded in 1985, has very great aspirations; Prince Charles is its honorary patron and its website boasts pictures of Nelson Mandela and other eminentoes delivering addresses at the centre.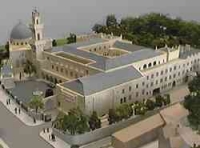 For the past twenty years, it has occupied modest quarters, but that is about to end in 2007 with the completion of a magnificent new edifice, one said to blend traditional aspects of British university colleges with eastern elements.
The building's surveyor describes it as "constructed along the lines of a traditional Oxford college around a central cloistered quadrangle. The 10,230 sq m four-storey building will feature study and research facilities, a lecture theatre, a large library and an environmentally controlled archive for rare documents. The building will also feature a prayer hall with traditional dome and minaret tower."
The centre includes a 108-foot-high minaret and a 75-foot-high dome. Its facilities include a mosque, a lecture theater, a library, extensive teaching facilities, residences for 57 students, a dining hall, and landscaped gardens. No one is quite sure of the final cost, which seems to go up with the passage of time; current estimates are £65 million.
Comment: The giant, grandiose, and grandiloquent Oxford Centre for Islamic Studies has a symbolically important role in the emergence of what Melanie Phillips calls "Dhimmi Britain." (March 18, 2005)
Oct. 12, 2006 update: The American academic, Muqtedar Khan, gloats a little at Gibbon's expense, as he sat "sipping tea in the elegantly appointed senior's common room at Magdalene College in Oxford, sharing anecdotes about Muslim intellectuals with Dr. Farhan Nizami the Director of the Oxford Center for Islamic Studies." Khan then refers to the famous Gibbon quote about the Koran and a circumcised people, and observes:
Remembering what he wrote, I wondered what his response would be, if he were to now take a tour of Oxford. Islam is present and thriving in Oxford University and in Oxford city.

Oxford is clearly one of the most enlightened cities in the world, with its 30+ very old and very distinguished colleges, and boasting of some of the finest minds in nearly every field as part of its citizenry. Add to this the spectacular domes and tall minarets of the two big mosques in Oxford and the picture of a virtuous city is complete. Gibbon would have been surprised to learn the lesson that military defeats do not stop the advance of civilizations and the globalization of Islam is unimpeded by the material and military weaknesses of the Muslim world.
Jan. 5, 2008 update: It's not just the Oxford Centre for Islamic Studies that is making itself heard in the university town. Two other institutions are raising issues concerning the practice of Islam:
(1) The Oxford Central Mosque has applied for permission to broadcast the adhan, the call to prayer, from its minarets three times a day. Town residents who want the request refused, worrying that it would turn the mosque area into a Muslim ghetto; for example, Mark Huckster, who lives nearby, says that "It isn't a Muslim-dominated area, but I think over a period of time there would be a population shift if this went ahead." To this sentiment, Rezwana Rana, a spokesman for the mosque, replies that "the area is very multicultural and we thought it would be an idea to have a call to prayer." Ibrahim Mogra of the Muslim Council of Britain argues that most residents eventually get accustomed to the call to prayer.
(2) The Rose Hill Primary School received a letter from headmistress Sue Mortimer informing them as part of the school's inclusion policy, halal meat had been made standard in all school meals for a trial period, making it the first primary in the county to do so. Unhappy about this change, a number of parents expressed their displeasure at the news and some even stood outside the school grounds collecting signatures for a petition against the change. Their reasons differed – anger at bureaucratic arrogance, disapproval of halal slaughtering methods, and so on.
Feb. 20, 2008 update: "Parents win a meaty victory" reads the headline in the Oxford Mail, telling how irate parents organized a petition with 220 signatures that forced the Rose Hill Primary School to back off the halal-only lunches in favor of offering students a choice of regular food, a halal food, or vegetarian. The school will use a wristband system (red wristband for meat, blue for halal meat, green for vegetarian) to make sure pupils get the correct meal. To make sure that non-halal and halal meats are kept separate during preparation, a spokesman for the Oxfordshire County Council noted, the school has bought new kitchen equipment. Taj Hargey, chairman of the Muslim Education Centre of Oxford, endorsed the new approach: "This is the best solution to improving community relations." In an editorial, the Oxford Mail opined that "No-one denies the right of Muslims to have the meat their faith demands. But that does not mean that it has to be given to everyone else in a school or workplace. The school should have realised that to serve halal meat to all pupils, without consulting parents, was bound to cause friction."
Related Topics: Academia, Muslims in the United Kingdom
Related Articles:
receive the latest by email: subscribe to daniel pipes' free mailing list
This text may be reposted or forwarded so long as it is presented as an integral whole with complete and accurate information provided about its author, date, place of publication, and original URL.