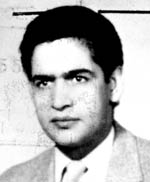 Nezar Hindawi
"El Al bomber too dangerous to release, court rules," reads the routine-sounding Times (London) headline. Well, that's good news, as Nezar (also spelled Nizar) Hindawi tried to use his pregnant fiancée as a mule to blow up an El Al plane in April 1986. Sentenced to 45 years in jail, he became eligible for parole in 2001. Let's hope he's not released anytime soon.
I believe I wrote the fullest account of this particular incident in "Terrorism: The Syrian Connection," a three-thousand-word investigation of the Nezar Hindawi episode published in 1989; it still makes for a good read into the cold-blooded world of terrorism as conducted by the Assad regime. Indeed, Hollywood, where are you? (October 13, 2004)
Oct. 14, 2004 update: Murphy states that Hindawi has never shown the slightest remorse for nearly sending her to her death and therefore she vociferously opposes his being freed on parole.
That man is pure unadulterated evil. You are talking about someone who has never shown even a flicker of remorse or once said 'sorry'. What about the human rights of all the people on that plane he was trying to murder? He must rot in jail for ever. If the House of Lords wants me to come and show them why, then I will do it.
Murphy also described her own state of mind in 1986: "I was a naïve young Irish girl who didn't think for a minute that he would do anything to harm me or the baby."
June 21, 2005 update: All these years later, and only now I find an account of Murphy's testimony at Hindawi's trial, from "Terrorism: Questions About a Damascus Connection" by Jill Smolowe. (It refers to the trial taking place "last week" but is dated 2005.)
Through three hours of courtroom testimony, she had barely raised her voice above a whisper. Now Ann Marie Murphy, 32, fixed her gaze on the Jordanian defendant, Nezar Hindawi, and unleashed the rage she had nursed since April 17, the day she was detained at London's Heathrow Airport with a 3¼-lb. bomb and a detonator in her luggage.

"You bastard you! How could you do that to me?" she shrieked. "I hate you! I hate you!"

Hindawi, also 32, appeared unmoved by the outburst.
April 1, 2011 update: The British legal machinery, in its wisdom, has decided that Hindawi will be out of jail by 2016. Details from the Daily Telegraph: He
must be released on parole no later than 2016. Two years ago the parole board recommended his release on condition that he was immediately deported to his native Jordan. However since then both Jack Straw, the former Justice Secretary, and his successor Ken Clarke, have refused to accept the parole board's recommendation. Two senior judges have now quashed those decisions, meaning Hindawi could finally win his freedom. ... The decision will now be reconsidered by the current Justice Secretary or referred to the Supreme Court.
(For more details about Hindawi's legal saga about being released from jail before his 45-year sentence is up in 2031, see articles from Nov. 25, 2010, Apr. 1, 2011, Aug. 15, 2012, and Dec. 17, 2012.)
Mar. 28, 2013 update: Theoretically, Hindawi is free, for the Parole Board decided that 26 years after his crime, at age 57, he no longer poses a threat. But there's a catch: he must be deported to Jordan and unless that happens, he remains incarcerated.
I made inquiries in Jordan and learned that Hindawi, like some other subjects, had his Jordanian nationality taken away, in part because he became a Syrian citizen. Therefore, he is stateless, which could mean a long wait in HMP Whitemoor.
Nov. 5, 2013 update: What sounds like a silly rendering of the Hindawi operation has opened at the 59E59 Theater in New York City. Called "The English Bride" and written by Lucile Lichtblau, it fictitiously turns the bilateral Murphy-Hindawi drama into a trilateral Murphy-Hindawi-Dov drama, with Dov a non-existent Mossad agent who "woos, cajoles and seduces a story out" of the two protagonists and thereby enters into a love triangle with them. Give me a break. Nov. 12, 2013 update: The New York Times review of this play does not mention the Hindawi operation, which is just as well.
April 13, 2016 update: On the 30th anniversary of the Hindawi operation, Aviation Security International has run a story about this infamous and important incident by Anthony Yung. He calls it "a classic case study on security profiling and one that triggered various airlines to begin using security questions to check the integrity of passengers and their baggage." Yung proceeds to provide a factual summary of the case identical to mine (hello: It would have been nice to give me credit) and concludes that this operation showed that
profiling itself should not be simply based on race or ethnicity, [but should] focus instead on other relevant attributes, such as suspicious flight ticket details, passport, baggage and behaviour, which are more likely to reveal abnormalities.
Nov. 27, 2017 update: An article about the cost of maintaining prisoners at the maximum-security Whitemoor prison indicates that Hindawi remains locked up there.
Feb. 26, 2019 update: An article on a riot at HMP Whitemoor again indicates that Hindawi remains incarcerated there. It looks like he might serve the full 45 years, meaning he would be released in about 2032.