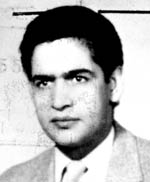 Nezar Hindawi
"El Al bomber too dangerous to release, court rules," reads the routine-sounding Times (London) headline. Well, that's good news, as Nezar Hindawi tried to use his pregnant fiancé as a mule to blow up an El Al plane in April 1986. Sentenced to 45 years in jail, he became eligible for parole in 2001. Let's hope he's not released anytime soon.
I believe I wrote the fullest account of this particular incident in "Terrorism: The Syrian Connection," a three-thousand-word investigation of the Nezar Hindawi episode published in 1989; it still makes for a good read into the cold-blooded world of terrorism as conducted by the Assad regime. (October 13, 2004)
April 1, 2011 update: The British legal machinery, in its wisdom, has decided that Hindawi must be released in 2016. Details from the Daily Telegraph: He
must be released on parole no later than 2016. Two years ago the parole board recommended his release on condition that he was immediately deported to his native Jordan. However since then both Jack Straw, the former Justice Secretary, and his successor Ken Clarke, have refused to accept the parole board's recommendation. Two senior judges have now quashed those decisions, meaning Hindawi could finally win his freedom. … The decision will now be reconsidered by the current Justice Secretary or referred to the Supreme Court.
Related Topics: Muslims in the United Kingdom, Syria, Terrorism receive the latest by email: subscribe to daniel pipes' free mailing list This text may be reposted or forwarded so long as it is presented as an integral whole with complete and accurate information provided about its author, date, place of publication, and original URL.