In a 1998 article, "Salman Rushdie's Delusion, and Ours," I argued that Ayatollah Khomeini's 1989 edict against Salman Rushdie would live on and dismissed the news from Tehran that the threat to the novelist's life had ended. In an attack on me last August, Christopher Hitchens particularly bore in on this point, disputing my conclusion by claiming that "Salman Rushdie lives in New York without body guards and travels freely."
In the friendly spirit of our continuing debate, I point out to Hitchens today's news from Iran: the "Committee for the Commemoration of Martyrs of the Global Islamic Campaign," an agency run by the Iranian Revolutionary Guards, has registered 10,000 volunteers for "martyrdom operations" - i.e., suicide attacks. The committee's spokesman, Mohammad Ali Samadi, explained it has three main targets: "the occupying American and British forces in the holy Iraqi cities, all the Zionists in Palestine, and Salman Rushdie." Explaining the inclusion of Rushdie on this list, the spokesman went on: "Salman Rushdie is the only non-military target for us, because we believe his attack against Islam was much worse that a military assault." I wonder if Hitchens is still quite so confident that Rushdie is free and clear of the Islamist threat. (June 5, 2004)
Jan. 20, 2005 update: I sure hope Salman Rushdie has not been listening to Hitchens' advice and walking around unguarded. Today comes the news that Iran's supreme leader, Ayatollah Ali Khamene'i, told Iranians on their way to the hajj (annual pilgrimage to Mecca) that Rushdie is an apostate whose execution is authorized by Islam. In the midst of a tirade against "Western and Zionist capitalists," he commented, "They talk about respect towards all religions, but they support such a mahdur ad-damm murtadd as Salman Rushdie." (A murtadd is an apostate from Islam and mahdur ad-damm means someone whose blood may be shed with impunity.)
With this, Khamene'i reaffirmed Ayatollah Khomeini's 1989 edict against Rushdie. Of course, British officials – eager for trade with Iran – "anxiously played down" these comments. A senior British official dismissed this statement by saying it "should not be taken as a new development." An unnamed Tehran-based analyst conveniently agreed: "This isn't shocking — it's nothing new." I do hope Rushdie is properly shocked.
Feb. 12, 2005 update: If further confirmation of the edict were needed, the Revolutionary Guards provided it today in a document faxed to Reuters: "This statement, while stressing the irrevocability of the death verdict against Salman Rushdie, says history shows that the Muslims have in no era accepted their sanctities being defiled. The day will come when the Muslims take retribution for apostate Salman Rushdie's transgression against the holy Koran and the Prophet Mohammad."
June 26, 2007 update: For my analysis of the new dangers to Salman Rushdie following his knighthood, see "Salman Rushdie and British Backbone."
Feb. 15, 2008 update: Hamid Ansari, deputy head of the Khomeini Archives said on Iranian state television that "Imam Khomeini's fatwa on Salman Rushdie has historic significance for Islam. It was not just a fatwa; it was a verdict that still holds today."
Comment: "Not just a fatwa" but "a verdict that still holds today": this alludes to the fact that a fatwa's sanction dies with the mufti who issues it. I explained this distinction in "Salman Rushdie's Delusion, and Ours":
The brand of Islam practiced in Iran distinguishes between two types of religious pronouncements, a fatwa and a hukm. The former remains valid only during the lifetime of the religious authority who issues it; the latter continues in effect beyond his death. Despite the Western habit of referring to the edict against Rushdie as a fatwa, Iranian spokesmen have universally regarded it as a hukm. Thus, Ayatollah Abdallah Javadi-Amoli in February 1997: "This is not a fatwa which died with the death of the religious leader who issued it.... It is a hukm which is permanent and it will stay in place until it is carried out."
Jan. 20, 2012 update: Reuters reports from Jaipur Literature Festival that Salman Rushdie will not attend it after the authorities warned him that "he was a potential target of assassins at the event, following threats of protests from Muslim groups at his planned appearance."
Jan. 30, 2013 update: Repeating the pattern set a year earlier at the Jaipur Literature Festival, Rushdie canceled a visit to Calcutta to promote the film version of Midnight's Children because the police said that he would be expelled from the city if he showed up.
Feb. 20, 2016 update: The Mujahideen-e Khalq report that 40 Iranian media agencies, all in some fashion state funded, have cobbled together about $600,000 to add to the bounty on Salman Rushdie.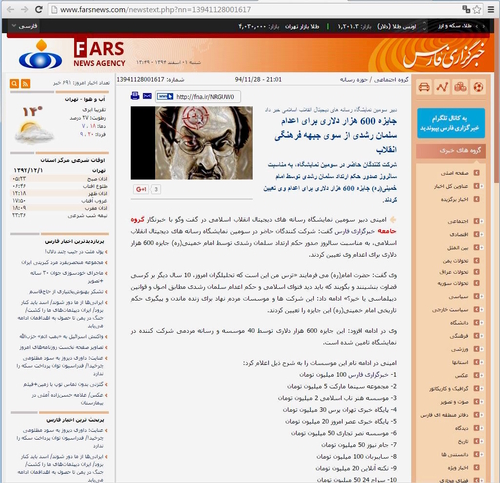 The Fars News Agency's Feb. 17, 2016, announcement of the additional new bounty.
Oct. 8, 2017 update: Rushdie must feel very safe, for he has spoken out against the Koran. Asked if the scripture should be edited to make the religion seem "more humane," he replied:
Editing the Koran seems like a mug's game. It's not a very enjoyable book because most of it is not narrative. The big difference between the Old Testament, the New Testament, and the Koran is that the Koran has the least narrative of them. Only about a quarter of the book is stories. A third of the book is fulminations against the unbeliever and how they will rot in hell. Another third of the book is laws, how you should behave. So, no I wouldn't edit it because then I'd have to read it, and I don't want to do that.
Comments: It takes a magical realist novelist to describe the "big difference" between the Bible and the Koran being theproportion devoted to story-telling.
Oct. 17, 2017 update: Rushdie feels so safe that he can turn up on the comedy show Curb Your Enthusiasm and give advice to the Larry David character who's newly under a fatwa. Rushdie encourages the despairing David by telling him that women are attracted to danger and there's no sex as wondrous as "fatwa sex."