Leonard Fein has noted in the Forward that I am one of those scheduled to speak at John Hagee's Christians United for Israel conference in July. In the light of new information about Pastor Hagee's views on the Holocaust and the news that John McCain repudiated Hagee's endorsement of him for president, Fein wonders, what are the others and I doing about the CUFI conference? Will they cancel their appearances, he asks. "Or will they twist and turn to rationalize their continuing support for this false witness?"
No twisting and no turning here, Mr. Fein. I plan to speak, as scheduled, at the conference.
It is inconceivable that I should repudiate Pastor Hagee, or his organization, because of his theological interpretations. He is not my spiritual guide but an ally in the political effort to help Israel survive and prosper. I do not expect to share a total outlook with my allies, nor do I need to examine their belief systems. It suffices that we work together for a common cause. (May 29, 2008)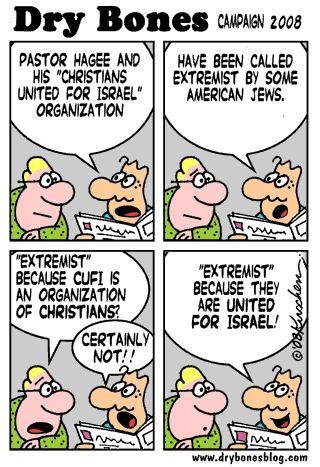 receive the latest by email: subscribe to daniel pipes' free mailing list
This text may be reposted or forwarded so long as it is presented as an integral whole with complete and accurate information provided about its author, date, place of publication, and original URL.