More Stupid Terrorists
by Daniel Pipes
Oct 4, 2005
updated Apr 4, 2015
http://www.danielpipes.org/blog/2005/10/more-stupid-terrorists
| | | |
| --- | --- | --- |
| | | |
I provided a listing today of nine stupid terrorists, suspected terrorists, and would-be terrorists who made dumb mistakes; it is, of course, not complete, so I will note other instances as they come to my attention (but not including routine traffic code violators, who have their own dedicated weblog). (October 4, 2005)
On Sep. 2, 1999, Israel went off of daylight savings time to make it easier for Orthodox Jews to attend Selichot, a pre-sunrise penitential prayer that runs from a week before Rosh Hashana through Yom Kippur; but the Palestinian Authority refused to follow Israel, leading to a two-week period when the two were an hour apart. To try to undermine the Sharm el-Sheikh accords, signed on Sep. 4, 1999, two Palestinian terrorists a day later tried to attack Israelis. But the Islamists set the bomb timers to go off on one schedule and themselves kept another one. As a result, the bomb went off when they were still transporting it, leading to the deaths of both men but no Israelis. (December 13, 1999)
On May 16, 2003, terrorists set off five near-simultaneous attacks in Casablanca, killing 29 people. But two of the groups made elementary mistakes. One attack took place at a Jewish community center that was closed and empty; the attack would have been far more deadly had they timed the attack on a sabbath. A second bomber blew himself by a public fountain in Casablanca's old city, killing three Muslims; he probably intended to attack a similar fountain at the entrance of a Jewish cemetery not far away. (June 28, 2003)
Anes Alic writes for ISN Security Watch: "Since October last year, 40 teenagers, several of whom met each other face-to-face or via the internet, have been arrested worldwide and indicted on terror charges in a case in which prosecutors are trying to prove that all suspects were linked in a European terrorism cell. … prosecutors believe that the group, if indeed it is proved to be a group, was preparing suicide attacks in countries in which they lived. Prior to their arrests, there is evidence showing that many of the suspects had made contact with each other either face to face or using the internet. Moroccan national Younis Tsouli, a 22-year-old computer expert, was arrested in October in London. Authorities believe he is the central figure in a cyber-terrorist network that reaches from Europe to North America. … Officials believe Tsouli was using one of his chat rooms to communicate with radical recruits in Toronto and Atlanta. They also believe his cyber code name was 'Irhabi007' (Arabic for 'Terrorist007')." (June 7, 2006)
Ashish Nayyar, an Indian national, decided to defy the New York subway system's ban on smoking and puffed away on a cigarette as he awaited the elevated No. 7 train at Queensboro Plaza around midnight on July 20. An undercover policeman issued him a ticket for smoking, then did a warrant check and discovered that the FBI in Texas had put Nayyar on the terror watch list. But after investigators confirmed his identity, they decided that he was "not a player" in terrorism and released him into the custody of Immigration and Customs Enforcement agents for being in the United States illegally. (July 22, 2006)
The six Islamists arrested on charges of attempting to attack Fort Dix in New Jersey made two stupid mistakes. They sent their jihadi video (depicting, according to the criminal complaint, "10 young men who appeared to be in their early twenties shooting assault weapons at a firing range in a militia-like style while calling for jihad and shouting in Arabic, 'Allah Akbar'") to a Circuit City store in Mt. Laurel, N.J., be turned into a DVD – rather than acquire the machinery themselves to do this delicate conversion. The clerk, who was authorized to view the material "for quality purposes," alerted law enforcement about its "disturbing" quality. Plus, what were the six thinking when they planned an attack on one of the best-fortified installations in the entire northeast United States, so secure that its premises contain a prison? (May 8, 2007)
Bilal Abdullah and Kafeel Ahmed took it into their heads to blow up Glasgow airport in Scotland – except that the facility is protected by bollards and the two stupid terrorists ran their car into these on June 30 and came out much for the worse for the experience. Abdullah survived but Ahmed did not. (Aug. 2, 2007)
Aug. 18, 2009 update: For another take on this topic, see "The 5 Most Embarrassing Failures in the History of Terrorism" by Bronzulton Q at Cracked.com.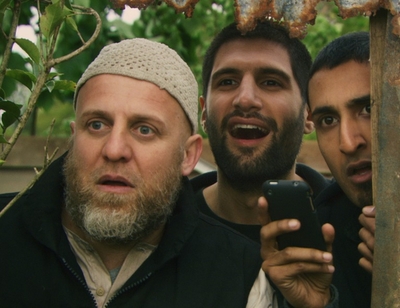 A scene from "Four Lions."

Mar. 17, 2010 update: For a bit of black comedic relief, the Irish film Four Lions was released today. From the YouTube webpage with the film's trailer:
Chris Morris' highly anticipated feature follows four young Muslim men on a thrillingly fictional story which illuminates the radicalised British jihad and undermines the folly of western culture's attempts to alienate them.
Mar. 25, 2010 update: From the Guardian's review of Four Lions:
Morris's basic strategy is to undermine and undercut. The jihadis are hopelessly confused and contradictory, caught between their assimilated lifestyle and righteous ideological fire. Omar, for example, can't stop mocking his far more religious, far more peaceable, brother. Fessel, a main vehicle for the doofus comedy, buys bomb-making material with a voice disguised as his own. (Plus he forgets about his beard when he presents himself as a "woman".) Omar and Waj bond by asserting they would happily kill the other if necessary. Barry is constantly trying to insert himself into a group trip to the Middle East, even though it is clear he is not wanted. And when the authorities finally track the group down, Morris doesn't spare them his withering eye: the cops are as incompetent as everyone else, despite their veneer of technological sophistication.
The explosives Faisal Shahzad set off in New York's Times Square did not go off because he made two technical mistakes: he acquired fertilizer without urea that does not explode; and he bought 152 of the M88 Silver Salutes fireworks that have to be lit individually, and so did not provide the required fuse. Also, Shahzad filed off the vehicle identification number (VIN) on the dashboard of the SUV he planned to blow up but was unaware that today's cars have multiple VINs, some in difficult-of-access places. This mistake led the police right to him. For an amusing riff on this unamusing topic, see Max Fisher, "The Incompetent Terrorist." (May 6, 2010)
Andrew Osborn writes for the Daily Telegraph how a Chechen female slipped up:
A "Black Widow" suicide bomber planned a terrorist attack in central Moscow on New Year's Eve but was killed when an unexpected text message set off her bomb too early, according to Russian security sources. The unnamed woman, who is thought to be part of the same group that struck Moscow's Domodedovo airport on Monday, intended to detonate a suicide belt on a busy square near Red Square on New Year's Eve in an attack that could have killed hundreds.
Security sources believe a spam message from her mobile phone operator wishing her a happy new year received just hours before the planned attack triggered her suicide belt, killing her but nobody else. She was at her Moscow safe house at the time getting ready with two accomplices, both of whom survived and were seen fleeing the scene. … The phones are usually kept switched off until the very last minute but in this case, Russian security sources believe, the terrorists were careless.
(January 27, 2011)
And for comic relief, how about a stupid counterterrorist? An unnamed British immigration officer was sacked for gross misconduct after adding the name of his annoying wife to a list of terrorist suspects. The Daily Mail's Steve Doughty elaborates: "He used his access to security databases to include his wife on a watch list of people banned from boarding flights into Britain because their presence in the country is 'not conducive to the public good'. As a result the woman was unable for three years to return from Pakistan after travelling to the county to visit family. The tampering went undetected until the immigration officer was selected for promotion and his wife name was found on the suspects' list during a vetting inquiry." (January 30, 2011)

Irfan Naseer, Irfan Khalid, and Ashik Ali planning to set off bombs but gambled away the money to do so.

Stupidity can also be non lethal: Al-Qaeda operative Mohammad Qasim al Ghamdi invested US$26.7 million at the Chicago-based brokerage house of R.J. O'Brien & Associates in 2005 and then proceeded to make a string of bad decisions that left him with a mere $6.6 million eight months later. (June 21, 2011)
Rahin Ahmed, financier for a British Islamist terrorist cell lost £9,000 (which had been stolen through fraudulent charity collecting during Ramadan) due to "unwise and incompetent" trading on the commodities market in 2011, alleged the Queen's Counsel to a court in Woolwich, and thereby he and it ended up taking a "terrible loss." (October 23, 2012)

The Tsarnaev brothers brutally set off pressure-cooker bombs killing and injuring hundreds, they murdered a university policeman in cold blood, but they boasted of their identity to the man they carjacked, allowed him to live, and then drove away with a stolen car containing a phone with its GPS turned on – giving the police an exact idea of their location. Michael Crowley looks in depth at this mistake in "How a Stupid Mistake Led Police Straight to the Boston Terrorists." (April 21, 2013)

A gang of six Birmingham-based Islamists planned to assault an English Defence League rally in Dewsbury, West Yorkshire, on June 30, 2012, with a homemade firework bomb filled with more than 400 nails and ball-bearings that could have led to a race war. But they made two stupid mistakes. (1) They arrived only after the EDL event had ended, thanks to poor planning and the EDL event ending early. As a result, the crowd of about 700 people, including a counter-protest by the United Against Fascism group and police officers, had left before the would-be bombers turned up. (2) One of the Islamists improperly filled out a car insurance form, causing one of their two cars, a Renault Laguna, to be followed, pulled over, and impounded in a routine traffic check on the M1 highway. Two days later, law enforcement found an arsenal in its trunk (sawn-off shotguns, machetes, knives, samurai swords, elements for pipe bombs, and that nail bomb) as well as a declarations of intent to attack the EDL and an announcement of war addressed to Prime Minister David Cameron and the "kafir female and self-proclaimed Queen Elizabeth and her accursed jubilee, fooling a nation of blind sheep to your self-proclaimed royalty and majesty." A massive dragnet then located the car's owner and his pals - Jewel Uddin, 27; Omar Khan, 28; Zohaib Kamran Ahmed, 22; Mohammed Saud, 22; Anzal Hussain, 31; and Mohammed Hasseen, 23. The six have pleaded guilty and Judge Nicholas Hilliard QC indicated they will get "significant" prison sentences. (April 30, 2013)

The just-created Al-Qaeda in the Indian Subcontinent (AQIS) did not enjoy a great success in its inaugural terror attack on Sep. 6 in the Pakistani port city of Karachi. Heavily armed terrorists, reports the London Telegraph,

targeted what they believed was an American aircraft carrier, but instead found a Pakistan Navy frigate and were overwhelmed before they could cause any damage, investigators said. Three jihadis were killed in the attack, four were captured and another three arrested the following day on information from interrogations. Two Pakistan Navy guards were wounded in the fighting. "It was a complete failure, they did not do any kind of damage, some were captured and we caught more, seven so far and may be more to come. They were well-equipped and came with the intention of taking a ship into their custody but they were caught in the initial stages," [said] a senior source close to the investigation.

(September 12, 2014)

John Nuttall, a dissolute convert to Islam in Vancouver who planned to detonate pressure-cooker bombs at the British Colombia Legislature, nearly killed himself by eating food laced with the strychnine he was using to kill ants, then refused to call 911 and accept help from "infidels." While vomiting blood, Nuttall came so close to death he said he could see "the angel of death, scratching the back of my neck with his sickle." (March 30, 2015)
Related Topics: Counter-terrorism, Terrorism
Related Articles:
receive the latest by email: subscribe to daniel pipes' free mailing list
This text may be reposted or forwarded so long as it is presented as an integral whole with complete and accurate information provided about its author, date, place of publication, and original URL.
Reader comments (9) on this item
Comment on this item
See recent outstanding comments.